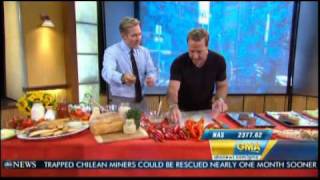 Set of Ten Top Secret Recipes Books
Old price
$165.00,
you save
$24.75
Exclusive signed copies. Over 1000 culinary carbon copies from Food Hacker and TV host, Todd Wilbur. Clone your favorite dishes from Olive Garden, Red Lobster, Chili's, Outback Steakhouse, McDonald's, KFC, P.F. Chang's, Red Robin, Houston's, Applebee's, Cracker Barrel, Starbucks, Wendy's...and so many more.
This massive collection includes a total of 1,057 recipes that will have you instantly creating fantastic taste-alike versions of all your favorite famous foods, and each book is signed by the author.
For more than 30 years, Todd has been obsessed with reverse-engineering famous foods, and he reveals all of his food hacking secrets to you in this 10-book set. Top secret blueprints and simple step-by-step instructions guarantee great success for even novice cooks. And when preparing these amazing taste-alike dishes at home you'll be paying up to 75 percent less than eating out!
 
Todd's books have been featured on Oprah, Rachael Ray, Good Morning America, The Today Show, QVC and many others—selling over 6 million copies to date.
Your set includes: Top Secret Recipes; More Top Secret Recipes; Top Secret Restaurant Recipes; Top Secret Recipes Lite!; Low-Fat Top Secret Recipes; Top Secret Recipes: Sodas, Smoothies, Spirits and Shakes; Even More Top Secret Recipes; Top Secret Restaurant Recipes 2; Top Secret Recipes Unlocked; and Top Secret Restaurant Recipes 3 (does not include Top Secret Recipes Step-by-Step).
Don't want all 10 books? Create your own set of books here.
I wanted to take a moment to thank you for your years of breaking down favorite recipes. I started following you in 1993 with your first book. Fast forward 28 years and I recently I found that I'm sensitive to 28 food ingredients and the hardest part of that is trying to eat out. So I was looking for some of my old favorites and your books came to mind. By using your recipes and editing for what I cannot have. I can once again get the flavors of my favorites. Being a big foodie is really tough when you find out you can't have a lot of things without consequences. My husband and I have eaten at more than 600 restaurants around the Orlando area before I realized food was the source of my not feeling well. I don't think you've realized that angle of your recipes yet. That having the recipe helps us to be able to make the same food without our triggers. Thank you for all you do.
I've been telling people about Top Secret Recipes for close to 20 years. I bet there's not a single person who knows me that doesn't go to your website for recipes and are SOOO excited that they can get clones for their favorite foods!! Whenever I cook for someone I want to impress, I go RIGHT to your books. The Chicken Limone is a favorite with pretty much everyone, but no matter what I make, I end up having to give them your website before they leave the house. I bet over the years I've single handedly sent over a hundred people to TSR. I'M OBSESSED. How can you NOT be?? If you cook, why WOULDN'T you want to make something that's fabulous. It's really a crap shoot if you go somewhere else. Even if it has good reviews, it's not a restaurant dish. I have worked in restaurants as a cook all my life. I've worked in a nursing home, in fast food, a seafood restaurant, fine dining, etc. BUT, I have never eaten so good as I have until I got Todd's books.