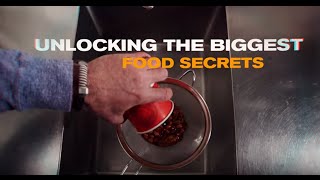 Top Secret Recipes Step-by-Step & Free Gift
Old price
$24.00,
you save
$2.40
Exclusive signed copy. Buy the #1 National Bestseller from America's Clone Recipe King, signed by the author, and we'll include a free bottle of our Hell Flakes, a 5-pepper microflake blend to kick up all your grub!
For more than thirty years, Todd Wilbur has been obsessed with recreating America's most iconic brand-name foods at home. In his first cookbook with color photos, the New York Times bestselling author brings you 125 new clone recipes: 75 first-time hacks and 50 overhauled all-time favorites. These recipes are not found individually on the website with the exception of just a few.
Each recipe comes with easy-to-follow step-by-step photos so that even novice cooks can perfectly recreate their favorite famous foods with everyday ingredients. And your homemade versions cost just a fraction of what the restaurants charge! The result of years of careful research, trial-and-error, and a little creative reverse-engineering.

Contents
Applebee's Mozzarella Sticks
Applebee's Oriental Chicken Salad
Applebee's Mexican Rice
Applebee's Fiesta Lime Chicken
Applebee's Maple Butter Blondie
Arby's Curly Fries
Auntie Anne's Pretzels
Ben & Jerry's Chocolate Chip Cookie Dough Ice Cream
Boston Market Meatloaf
Buba Gumps Seafood Hush Pups
Bubba Gump's Shrimp New Orleans
Burger King Stuffed Steakhouse Burger
Cafe Rio Creamy Tomatillo Dressing
Cafe Rio Sweet Pork Barbacoa
Cafe Rio Tres Leches Cake
Capital Grille Creamed Corn with Smoked Bacon
Capital Grille Lobster Mac 'N' Cheese
Capital Grille Classic Creme Brulee
Carrabba's Cozze in Bianco (Steamed Mussels)
Carrabba's Pollo Rosa Maria
Cheesecake Factory Fried Macaroni and Cheese
Cheesecake Factory Stuffed Mushrooms
Cheesecake Factory Mashed Red Potatoes
Cheesecake Factory Chicken Madeira
Cheesecake Factory Louisiana Chicken Pasta
Cheesecake Factory Fresh Strawberry Cheesecake
Cheesecake Factory Vanilla Bean Cheesecake
Chick-fil-A Chicken Sandwich
Chili's California Grilled Chicken Flatbread
Chili's Chipotle Chicken Flatbread
Chili Grilled Baby Back Ribs
Chili's® Molten Chocolate Cake
Chipotle Mexican Grill Black Beans
Chipotle Mexican Grill Cilantro Lime Brown Rice
Chipotle Mexican Grill Adobo-Marinated Grilled Chicken & Steak
Fudgsicle Original Fudge Bars
Girl Scout Cookies Trefoils/Shortbread Cookies
Hostess CupCakes
Hostess Twinkie
Houston's Chicago-Style Spinach Dip
IHOP New York Cheesecake Pancakes
IHOP Original Buttermilk Pancakes
IKEA Swedish Meatballs
Jack-in-the-Box Beef Taco
KFC Cole Slaw
KFC Grilled Chicken
KFC Original Recipe Fried Chicken
Legal Sea Foods New England Clam Chowder
Legal Sea Foods Legal's Signature Crab Cakes
Lofthouse Frosted Cookies
Long John Silver's Tartar Sauce
Long John Silver's Battered Fish
Marie Callender's Famous Golden Cornbread
Marie Callender's Banana Cream Pie
Mauna Loa Kona Coffee Glazed Macadamias
McDonald's McCafe Blueberry Pomegranate Smoothie
McDonald's Sweet Chili Chicken McWrap
McDonald's Big Mac
McDonald's McRib Sandwich
McDonald's Apple Pie (Baked & Fried)
The Melting Pot Cheddar Cheese Fondue
The Melting Pot Traditional Swiss Cheese Fondue
Mrs. Fields Chocolate Chip Cookies
Nordstrom Roma Tomato Basil Soup
Nuts 4 Nuts Honey Roasted Nuts
Olive Garden Garden Fresh Salad & Salad Dressing
Orange Julius Original Orange Julius
The Original Pancake House Apple Pancake
The Original Pancake House Dutch Baby
The Original Pancake House Sourdough Pancakes
Outback Steakhouse Honey Wheat Bushman Bread
Outback Steakhouse Bloomin' Onion
Outback Steakhouse Kookaburra Wings
Panera Bread Broccoli Cheddar Soup
Panera Bread Asian Sesame Chicken Salad
Panera Bread Fuji Apple Chicken Salad
Panera Bread Spinach & Bacon Baked Egg Soufflé
Pepperidge Farm Milano Cookies
P.F. Chang's Chicken Lettuce Wraps
P.F. Chang's Oolong Chilean Sea Bass
Pinkberry Original Frozen Yogurt
Pinkberry Pomegranate Frozen Yogurt
Raising Cane's Cane's Sauce
Raising Cane's Chicken Fingers
Red Lobster Cheddar Bay Biscuits
Red Lobster Pumpkin Pie in a Jar
Roy's Braised Short Ribs of Beef
Roy's Misoyaki "Butterfish"
Roy's Melting Hot Chocolate Soufflé
Rubio's Mild Salsa
Rubio's Red Tomatillo Salsa
Rubio's Grilled Gourmet Taco with Shrimp
Rubio's Original Fish Taco
Ruth's Chris Steak House Barbecued Shrimp
Ruth's Chris Steak House Ruth's Chop Salad
Ruth's Chris Steak House Sweet Potato Casserole
Ruth's Chris Steak House Chris Filet
Sabra Classic Hummus
St. Elmo Steak House Shrimp Cocktail
Starbucks Birthday Cake Cake Pops
Starbucks Holiday Gingerbread
Steak 'n Shake Classic Milk Shakes
Steak 'n Shake Genuine Chili
Steak 'n Shake The Original Double 'n Cheese Steakburger
Taco Bell CrunchWrap Supreme
Taco Bell Mexican Pizza
TGI Friday's Loaded Potato Skins
TGI Friday's Jack Daniel's Sauce
TGI Friday's Dragonfire Salmon
Tony Roma's Baby Back Ribs
Tony Roma's Original Barbecue Sauce
Tony Roma's Carolina Honeys Barbecue Sauce
Waffle House Waffles
Wendy's Chili
Wendy's Pretzel Bacon Cheeseburger
Craving more of Todd's recipes? There are 12 cookbooks in all! 
I own ALL of the TSR cookbooks and this is the best! From the full-color photos and great step-by-step photos (as needed) to the amazing recipes that are all a 10 - this is a cookbook that everyone needs! I write this at a time when are world is in quarantine with COVID and going out to restaurants is not an option. There is never a better time to invest in one of the TSR cookbooks (or the TSR recipe club) and to make your favorite restaurant recipes from home. Trust me, you will be so happy you tried these!
What can I say, another awesome book by Todd! My personal favorite from this issue is the Bubba Gump Shrimp New Orleans which everyone raves about every time I make it. I subscribe to his email's and own 4 of his books. I make many of the recipes and like the book as it is very clear to follow and easier to have open while cooking. I think we open Todd Wilbur cookbooks more often than any other we own.