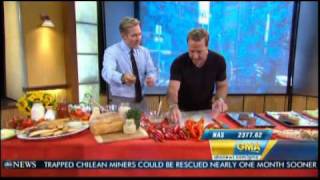 Top Secret Restaurant Recipes 3
Old price
$18.00,
you save
$1.80
Exclusive signed copy. America's best copycat recipes! Save money and amaze your friends with all-new culinary carbon copies from the Clone Recipe King!

For more than 30 years, Todd Wilbur has been obsessed with reverse-engineering famous foods. Using every day ingredients to replicate signature restaurant dishes at home, Todd shares his delectable discoveries with readers everywhere.

Now, his super-sleuthing taste buds are back to work in the third installment of his mega-bestselling Top Secret Restaurant Recipes series, with 150 sensational new recipes that unlock the delicious formulas for re-creating your favorite dishes from America's most popular restaurant chains. Todd's top secret blueprints and simple step-by-step instructions guarantee great success for even novice cooks. And when preparing these amazing taste-alike dishes at home, you'll be paying up to 75 percent less than eating out!

Find out how to make your own home versions of: Pizza Hut Pan Pizza, T.G.I. Friday's Crispy Green Bean Fries, Buca di Beppo Chicken Limone, Serendipity 3 Frrrozen Hot Chocolate, P.F. Chang's Kung Pao Chicken, Max & Erma's Tortilla Soup, Cracker Barrel Double Chocolate Fudge Coca-Cola Cake, Olive Garden Breadsticks, Cheesecake Factory Fresh Banana Cream Cheesecake, Carrabba's Chicken Bryan, Famous Dave's Corn Muffins, Outback Steakhouse Chocolate Thunder from Down Under, T.G.I. Friday's Jack Daniel's Glazed Ribs, and much, much more...
Simple. Foolproof. Easy to Prepare. And so delicious you'll swear it's the real thing!

You may also like Top Secret Restaurant Recipes 2, and Top Secret Recipes Step-by-Step
Contents
Applebee's Apple Walnut Chicken Salad
Applebee's Chocolate Mousse Dessert Shooter
Applebee's Grilled Shrimp 'N Spinach Salad
Applebee's Key Lime Pie Dessert Shooter
Applebee's Red Apple Sangria
Applebee's Strawberry Cheesecake Dessert Shooter
Applebee's Tomato Basil Soup
Applebee's White  Peach Sangria
Bahama Breeze Island Onion Rings
Bahama Breese West Indian Patties
BJ's Restaurant & Brewhouse Chili
BJ's Restaurant & Brewhouse Famous Pizookie
BJ's Restaurant & Brewhouse Parmesan Crusted Chicken Breast
BJ's Restaurant & Brewhouse White Cheddar Mashed Potatoes
Bonefish Grill Bang Bang Shrimp
Bonefish Grill Citrus Herb Vinaigrette
Bonefish Grill Saucy Shrimp
Buca di Beppo Garlic Bread and Garlic Bread with Mozzarella
Buca di Beppo Chicken Limone
Buffalo Wild Wings Asian Zing Sauce
Buffalo Wild Wings Parmesan Garlic Sauce
California Pizza Kitchen The Original BBQ Chicken Chopped Salad
California Pizza Kitchen Original Chopped Salad
Carrabba's Spicy Sausage Lentil Soup
Carrabba's Chicken Bryan
Cheeseburger in Paradise BBQ Jerk Ribs
Cheeseburger in Paradise Sweet Potato Chips
Cheeseburger in Paradise El Cubano Sandwich
Cheesecake Factory Famous Factory Meatloaf
Cheesecake Factory Miso Salmon
Cheesecake Factory Pineapple Pisco Sour
Cheesecake Factory Thai Lettuce Wraps
Cheesecake Factory Banana Cream Cheesecake
Cheesecake Factory Stefanie's Ultimate Red Velvet Cheesecake
Chili's Honey-Chipotle Chicken Crispers
Chili's Cajun Ribeye
Chili's Firecracker Tilapia
Chili's Quesadilla Explosion Salad
Chili's Nacho Burger
Chili's White Chocolate Molten Cake
Cracker Barrel Cole Slaw
Cracker Barrel Double Chocolate Fudge Coca-Cola Cake
Cracker Barrel Macaroni n' Cheese
Denny's Cherry Cherry Limeade
Denny's Pancake Puppies
Denny's Broccoli Cheese Soup
Famous Dave's Corn Muffins
Famous Dave's Smoked Salmon Spread
Famous Dave's Wilbur Beans
Fleming's Prime Steakhouse Wicked Cajun Barbecue Shrimp
Fleming's Prime Steakhouse Chipotle Cheddar Macaroni & Cheese
Fleming's Prime Steakhouse Fleming's Potatoes
Fuddruckers Hamburger Seasoning
Gordon Biersch Cran Blueberi Lemonade Cocktail
Gordon Biersch Garlic Fries
Gordon Biersch Raspberry Iced Tea Cocktail
Gordon Biersch Warm Apple Bread Pudding
Hard Rock Cafe Tupelo Style Chicken
Hard Rock Cafe Twisted Mac & Cheese
Hooter's Fried Pickles
Houston's House Vinaigrette
Houston's Couscous
IHOP Banana Macadamia Nut Pancakes
IHOP Corn Cake Pancakes
IHOP Funnel Cakes
IHOP Shortcake Pancakes
Joe's Crab Shack Crab Nachos
Joe's Crab Shack Great Balls of Fire
Joes Crab Shack Spicy Boil
Joe's Crab Shack BBQ Crab
Joe's Stone  Crab Garlic Creamed Spinach
Joe's Stone  Crab Grilled Tomatoes
Joe's Stone  Crab Jennie's Potatoes
Joe's Stone  Crab Jumbo Lump Crab Cakes
Margaritaville Havanas and Bananas Cocktail
Margaritaville Incommunicado Cocktail
Margaritaville Volcano Nachos
Margaritaville Jerk Salmon
Mastro's Steakhouse Gorgonzola Macaroni & Cheese
Mastro's Steakhouse Steak Seasoning
Mastro's Steakhouse Warm Butter Cake
Max & Erma's Tortilla Soup
Mimi's Cafe Buttermilk Spice Muffins
Mimi's Cafe Carrot Raisin Nut Muffins
Mimi's Cafe Five-Way Grilled Cheese
Olive Garden Breadsticks
Olive Garden Dipping Sauces for Breadsticks
Olive Garden Chicken and Gnocchi Soup
Olive Garden Black Tie Mouse Cake
Olive Garden Mango Martini
Olive Garden Pomegranate Margarita Martini
Olive Garden Smoked Mozzarella Fonduta
Olive Garden Steak Gorgonzola Alfredo
On the Border Guacamole Live!
On the Border Mexican Mojito
On the Border Smoke Jalapeno Vinaigrette
Outback Steakhouse Bleu Cheese Chopped Salad
Outback Steakhouse Mashed Sweet Potatoes
Outback Steakhouse Outback Rack
Outback Steakhouse Three Cheese Au Gratin Potatoes
Outback Steakhouse Victoria "Crowned" Filet w/Horseradish Crumb Crust
Outback Steakhouse Chocolate Thunder from Down Under
P.F. Chang's Asian Pear Mojito
P.F. Chang's Chang's Key Lime Martini
P.F. Chang's Spicy Green Beans
P.F. Chang's Kung Pao  Chicken
P.F. Chang's Chicken in Soothing Lettuce Wraps--Improved
P.F. Chang's Vegetarian Lettuce Wraps
Pizza Hut WingStreet Traditional Chicken Wings--Hot, Med, Mild
Pizza Hut Tuscani Creamy Chicken Alfredo Pasta
Pizza Hut Pan Pizza
Red Lobster Peach-Bourbon BBQ Scallops
Red Lobster Maple-Glazed Salmon & Shrimp
Red Robin Campfire Sauce
Red Robin Creamy Artichoke & Spinach Dip
Red Robin Red's Homemade Chili Chili
Red Robin The Royal Red Robin Hamburger
Romano's Lemon Passion
Roy's Hawaiian Martini
Roy's Classic Roasted Macadamia Nut Crusted Mahi Mahi
Roy's Melting Hot Chocolate Soufflé
Ruby Tuesday Apple Salad
Ruby Tuesday Queso Dip & Beef Queso Dip
Ruby Tuesday Thai Phoon Shrimp
Serendipity 3 Frrrozen Hot Chocolate
Simon Kitchen & Bar Wok-Seared Edamame
Spago Butternut Squash Soup
Spago Pumpkin Cheesecake
T.G.I. Friday's Candy Apple Martini
T.G.I. Friday's Crispy Green Bean Fries
T.G.I. Friday's Parmesan-Crusted Sicilian Quesadilla
T.G.I. Friday's Jack Daniel's Glaze
T.G.I. Friday's Sesame Jack Strips
T.G.I. Friday's Bruschetta Chicken Pasta
T.G.I. Friday's Dragonfire Chicken
T.G.I. Friday's Fried Mac & Cheese
T.G.I. Friday's Pomegranate Martini w/Candy Apple
T.G.I. Friday's Tuscan Portobello Melt
T.G.I. Friday's Tuscan Spinach Dip
Trader Vic's World-Famous Mai Tai
Traders Vic's Tom Ka Gai Soup
I have every book. I love love love your recipes. Looking for Red Lobster Dijon lobster dish.
My favorites of what i tried was the Frozen hot chocolate, cracker barrel coleslaw and TGI Fridays chicken strips. All were very delicious recipes.
YOU MAY ALSO LIKE
per month*

Includes eight (8) 79¢ recipes of your choice each month!

Read more

per month

($23.88 annually)*
Save $12 vs. monthly

Includes eight (8) 79¢ recipes of your choice each month!

Read more

Exclusive signed copy. After 10 years of research in the Top Secret Lab, America's Clone Ranger emerges with his highly anticipated follow-up to the best-selling Top Secret Restaurant Recipes cookbook.

Author Todd Wilbur reveals 150 new secret formulas for duplicating the taste of your favorite dishes from America's biggest restaurant chains including Applebee's, Olive Garden, Outback Steakhouse and many others.

Todd's simple recipes and detailed blueprints will have you creating culinary copycats that will fool even the most critical connoisseurs at a fraction of the cost of eating out. But beware, everyone will be so amazed, you may have to start taking reservations!

Discover the secrets to making your own versions of Original Pancake House Apple Pancake, Olive Garden Sicilian Scampi, The Cheesecake Factory White Chocolate Raspberry Truffle Cheesecake, Chili's Grilled Baby Back Ribs, Romano's Macaroni Grill Penne Rustica, Applebee's White Chocolate & Walnut Blondie, Red Lobster Cheddar Bay Biscuits, Tony Roma's Baked Potato Soup, Houston's Chicago-Style Spinach Dip, Benihana Ginger Salad Dressing, IHOP Country Griddle Cakes, Carrabba's Chicken Marsala, T.G.I. Friday's Pecan-Crusted Chicken Salad, Chili's Southwestern Eggrolls, Olive Garden Lemon Cream Cake, Bennigan's The Monte Cristo, P.F. Chang's Orange Peel Chicken, Outback Steakhouse Kookaburra Wings and many more.

Other books you may like:Top Secret Restaurant Recipes and Top Secret Restaurant Recipes 3.

Contents
Applebee's Mud Slide
Applebee's Perfect Apple Margarita
Applebee's Perfect Sunrise
Applebee's Onion Peels
Applebee's Baked French Onion Soup
Applebee's Santa Fe Chicken Salad
Applebee's Almond Rice Pilaf
Applebee's Bourbon Street Steak
Applebee's Chicken Fajita Rollup
Applebee's Crispy Orange Chicken Bowl
Applebee's Honey Grilled Salmon
Applebee's Tequila Lime Chicken
Applebee's White Chocolate & Walnut Blondie
Benihana Ginger Salad Dressing
Benihana Japanese Onion Soup
Benihana Mandarin Orange Cheesecake
Bennigan's The Monte Cristo
Buffalo Wild Wings and Sauces
--Spicy Garlic Sauce
--Medium Wing Sauce
--Hot Wing Sauce
--Caribbean Jerk Sauce
California Pizza Kitchen California Cosmo
California Pizza Kitchen Thai Crunch Salad
California Pizza Kitchen California Club Pizza
California Pizza Kitchen Jamaican Jerk Chicken Pizza
Carrabba's Bread Dipping Blend
Carrabba's House Salad Dressing (Creamy Parmesan)
Carrabba's Chicken Marsala
The Cheesecake Factory Mini Crabcakes
The Cheesecake Factory Sweet Corn Tamale Cakes
The Cheesecake Factory Chicken Madeira
The Cheesecake Factory Bang-Bang Chicken & Shrimp
The Cheesecake Factory Original Cheesecake
The Cheesecake Factory White Chocolate Raspberry Truffle Cheesecake
Chevys Fresh Salsa
Chevys Mango Salsa
Chevys Chile Con Queso
Chevys Garlic Mashed Potatoes
Chevys Sweet Corn Tomalito
Chevys Flan
Chili's Salsa
Chili's Boneless Buffalo Wings
Chili's Boneless Shanghai Wings
Chili's Chicken Crispers
Chili's Chili Queso
Chili's Lettuce Wraps
Chili's Southwestern Eggrolls
Chili's Chicken Enchilada Soup
Chili's Southwestern Vegetable Soup
Chili's Honey Mustard Dressing
Chili's Grilled Baby Back Ribs
Chili's Chocolate Chip Paradise Pie
Chili's Molten Chocolate Cake
Claim Jumper Garlic Cheese Bread
Claim Jumper Fire-Roasted Artichoke
Claim Jumper Cheese Potatocakes
Claim Jumper Spicy Thai Slaw
Claim Jumper Meatloaf
Denny's Fabulous French Toast
Denny's BBQ Chicken Sandwich
Denny's Club Sandwich
Hard Rock Cafe Homemade Chicken Noodle Soup
Hard Rock Cafe Bar-B-Que Beans
Hard Rock Cafe Pig Sandwich
Houston's Chicago-Style Spinach Dip
Houston's Honey Lime Vinaigrette
Houston's Cole Slaw
IHOP Cinn-A Stacks
IHOP Country Griddle Cakes
IHOP Country Omelette
IHOP Harvest Grain 'N Nut Pancakes
IHOP Pumpkin Pancakes
Islands China Coast Salad Dressing
Islands Island Fries
Islands Tortilla Soup
Islands Yaki Soft Tacos
Joe's Crab Shack Blue Crap Dip
Joe's Crab Shack Garlic King Crab Legs
Lone Star Steakhouse Lettuce Wedge Salad
Lone Star Steakhouse Baked Sweet Potato
Lone Star Steakhouse Lone Star Chili
Margaritaville Crab, Shrimp and Mushroom Dip
Margaritaville Jamaica Mistaica Wings
Margaritaville Key Lime Pie
Marie Callender's Lemon Cream Cheese Pie
Marie Callender's Pumpkin Pie
Mimi's Cafe Carrot Raisin Bread
Mimi's Cafe Corn Chowder
Mimi's Cafe French Market Onion Soup
Olive Garden Limoncello Lemonade
Olive Garden Bruschetta
Olive Garden Sicilian Scampi
Olive Garden Stuffed Mushrooms
Olive Garden Toasted Ravioli
Olive Garden Pasta e Fagioli
Olive Garden Minestrone Soup
Olive Garden Chicken Scampi
Olive Garden Chocolate Lasagna
Olive Garden Frozen Tiramisu
Olive Garden Lemon Cream Cake
Olive Garden Tiramisu
Original Pancake House Apple Pancake
Original Pancake House German Pancake
Outback Steakhouse Honey Wheat Bushman Bread
Outback Steakhouse Grilled Shrimp On The Barbie
Outback Steakhouse Kookaburra Wings
Outback Steakhouse Bleu Cheese Dressing
Outback Steakhouse Caesar Salad Dressing
Outback Steakhouse Honey Mustard Salad Dressing
Outback Steakhouse Ranch Salad Dressing
Outback Steakhouse Tangy Tomato Dressing
Outback Steakhouse Cinnamon Apple Oblivion
Outback Steakhouse Sydney's Sinful Sundae
P.F. Chang's Mai Tai
P.F. Chang's Chang's Spare Ribs
P.F. Chang's Chicken in Soothing Lettuce Wraps
P.F. Chang's Shrimp Dumplings
P.F. Chang's Garlic Snap Peas
P.F. Chang's Chang's Spicy Chicken
P.F. Chang's Dan-Dan Noodles
P.F. Chang's Lemon Pepper Shrimp
P.F. Chang's Mongolian Beef
P.F. Chang's Oolong Marinated Sea Bass
P.F. Chang's Orange Peel Chicken
P.F. Chang's Chocolate Torte
Red Lobster Tartar Sauce
Red Lobster Cheddar Bay Biscuits
Red Lobster Bacon-Wrapped Shrimp
Red Lobster Cheddar Bay Crab Bake
Red Lobster Parrot Bay Coconut Shrimp
Red Lobster Red Lobster New England Clam Chowder
Red Lobster Teriyaki Glazed Fresh Fish
Red Robin Seasoning
Red Robin 5 Alarm Burger
Red Robin Banzai Burger
Red Robin Teriyaki Chicken Burger
Roadhouse Grill Roadhouse Rita
Roadhouse Grill Roadhouse Cheese Wraps
Roadhouse Grill Baby Back Ribs
Romano's Macaroni Grill Chicken Portobello
Romano's Macaroni Grill Chicken Scaloppine
Romano's Macaroni Grill Penne Rustica
Ruby Tuesday Creamy Mashed Cauliflower
T.G.I. Friday's Black Bean Soup
T.G.I. Friday's Broccoli Cheese Soup
T.G.I. Friday's Pecan-Crusted Chicken Salad
T.G.I. Friday's Sizzling Shrimp
Tony Roma's Blue Ridge Smokies Sauce
Tony Roma's Baked Potato Soup
Tony Roma's Maple Sweet Potatoes
Tony Roma's Carolina Honeys BBQ Salmon
Waffle House Waffles

Read more

Exclusive signed copy. It's no longer necessary to stand in line for a table at T.G.I. Friday's or Red Lobster, Olive Garden or Outback. You can make the menu items you love right at home—with ingredients from your local supermarket. Included in this book are some of the best-kept restaurant secrets that let you eat in with the great taste of eating out!

In this unique cookbook Todd Wilbur re-creates more than 100 signature dishes from America's most popular chain restaurants—including such hot theme eateries as the Hard Rock Cafe and Planet Hollywood.

Wilbur's easy-to-make knock-offs, the product of years of research, are indiscernible from the originals—and the most ingenious way we know of to cut down on the cost of eating out. But watch out, once you start cooking, people may start calling for reservations at your dinner table!

Find out how to make home versions of Applebees Oriental Chicken Salad, Benihana Hibachi Chicken & Steak, California Pizza Kitchen BBQ Chicken Pizza, The Cheesecake Factory Cajun Jambalaya Pasta, Chi-Chi's Sweet Corn Cake, Cracker Barrel Hash Brown Casserole, Hard Rock Cafe Famous Baby Rock Watermelon Ribs, Hooters Buffalo Wings, Marie Callenders Famous Golden Cornbread, Olive Garden Hot Artichoke-Spinach Dip, Outback Steakhouse Alice Springs Chicken, Pizza Hut Original Stuffed Crust Pizza, Planet Hollywood Chicken Crunch, Ruth's Chris Creamed Spinach, T.G.I. Friday's Potato Skins, and many more.

Other books you may like: Top Secret Restaurant Recipes 2 and Top Secret Restaurant Recipes 3.

Contents
Applebee's Club House Grill
Applebee's Oriental Chicken Salad
Applebee's Pizza Sticks
Applebee's Quesadillas
Applebee's Tijuana "Philly" Steak Sandwich
Benihana Hibachi Chicken
Benihana Hibachi Steak
Benihana Mustard Dipping Sauce
Benihana Ginger Dipping Sauce
Benihana Japanese Fried rice
Bennigan's Buffalo Chicken Sandwich
Bennigan's California Turkey Sandwich
Bennigan's Cookie Mountain Sundae
Big Boy Cream of Broccoli Soup
Big Boy Original Double-Decker Hamburger Classic
Big Boy Club Sandwich
California Pizza Kitchen Original BBQ Chicken Pizza
California Pizza Kitchen Thai Chicken Pizza
California Pizza Kitchen Southwestern Burrito Pizza
Cheesecake Factory Bruschetta
Cheesecake Factory Avocado Eggrolls
Cheesecake Factory Cajun Jambalaya Pasta
Cheesecake Factory Pumpkin Cheesecake
Cheesecake Factory Key Lime Cheesecake
Chi-Chi's Beef Nachos Grande
Chi-Chi's Chicken Nachos Grande
Chi-Chi's Sweet Corn Cake
Chi-Chi's Twice Grilled Barbecue Burrito
Chi-Chi's "Fried" Ice Cream
Chili's Grilled Caribbean Salad
Chili's Fajitas for Two
Chili's Peanut Butter Cheesecake
Cracker Barrel Hash Brown Casserole
Cracker Barrel Eggs-in-the-Basket
Cracker Barrel Chicken & Dumplins
Denny's Scram Slam
Denny's Moons Over My Hammy
Denny's The Super Bird
Dive! Carrot Chips
Dive! Sicilian Sub Rosa
Dive! Brick Oven Mushroom & Turkey Cheese Sub
Dive! S'mores
Hard Rock Cafe Filet Steak Sandwich
Hard Rock Cafe Grilled Vegetable Sandwich
Hard Rock Cafe Famous Baby Rock Watermelon Ribs
Hard Rock Cafe Orange Freeze
Hooters Buffalo Chicken Wings
Hooters Buffalo Shrimp
Hooters Pasta Salad
Houlihan's Houli Fruit Fizz
Houlihan's 'Shrooms
Houlihan's Smashed Potatoes
IHOP Banana Nut Pancakes
IHOP Cheese Blintz
IHOP Fajita Omelette
IHOP French Toast
Lone Star Steakhouse & Saloon Amarillo Cheese Fries
Lone Star Steakhouse & Saloon Black Bean Soup
Lone Star Steakhouse & Saloon Texas Rice
Lone Star Steakhouse & Saloon Sweet Bourbon Salmon
Marie Callender's Famous Golden Cornbread
Marie Callender's Chicken Pot Pie
Marie Callender's Banana Cream Pie
Olive Garden Italian Salad Dressing
Olive Garden Hot Artichoke-Spinach Dip
Olive Garden Toscana Soup
Olive Garden Alfredo Pasta
Outback Steakhouse Bloomin' Onion
Outback Steakhouse Gold Coast Coconut Shrimp
Outback Steakhouse Walkabout Soup
Outback Steakhouse Alice Springs Chicken
Perkins Family Restaurants Potato Pancakes
Perkins Family Restaurants Granny's Country Omelette
Perkins Family Restaurants Country Club Omelette
Pizza Hut Original Stuffed Crust Pizza
Pizza Hut Pepperoni & Cheese Stuffed Crust Pizza
Pizza Hut TripleDecker Pizza
Planet Hollywood Pizza Bread
Planet Hollywood Chicken Crunch
Planet Hollywood Pot Stickers
Red Lobster Broiled Lobster
Red Lobster Broiled Bacon-Wrapped Scallops
Red Lobster Grilled Scallop & Bacon Skewers
Red Lobster Stuffed Shrimp
Red Lobster Stuffed Mushrooms
Red Robin No-Fire Peppers
Red Robin BBQ Chicken Salad Red Robin Mountain High Mudd Pie
Ruby Tuesday Potato Cheese Soup
Ruby Tuesday Smokey Mountain Chicken
Ruby Tuesday Sonora Chicken Pasta
Ruby Tuesday Strawberry Tallcake for Two
Ruth's Chris Steak House Barbecued Shrimp
Ruth's Chris Steak House Petite Filet
Ruth's Chris Steak House Creamed Spinach
Ruth's Chris Steak House Potatoes Au Gratin
Shoney's Country Fried Steak
Shoney's Slow-Cooked Pot Roast
Shoney's Hot Fudge Cake
Sizzler Cheese Toast
Sizzler Chicken Club Sandwich
Sizzler Southern Fried Shrimp
Stuart Anderson's Black Angus Cheese Garlic Bread
Stuart Anderson's Black Angus Western T-bone
Stuart Anderson's Black Angus Whiskey Pepper Steak
T.G.I. Friday's Potato Skins
T.G.I. Friday's Nine-Layer Dip
T.G.I. Friday's California Chargrilled Turkey Sandwich
T.G.I. Friday's Spicy Cajun Chicken Pasta
T.G.I. Friday's Friday's Smoothies--Gold Medalist
T.G.I. Friday's Friday's Smoothies--Tropical Runner
Tony Roma's World Famous Ribs
Tony Roma's Original Baby Backs
Tony Roma's Carolina Honeys
Tony Roma's Red Hots
Western Sizzlin' "Teriyaki" Chicken Breast

Read more

Exclusive signed copy. The original clone recipe king has done it again. For the last thirty years Todd Wilbur has been creating amazing culinary carbon copies of all your favorite brand-name foods using his special techniques.

In Todd Wilbur's Top Secret Recipes Unlocked, his 9th cookbook, the Clone Ranger brings you over 100 new kitchen clones! Todd reveals key ingredients and the secret-yet-simple steps for duplicating famous foods from Starbucks, McDonald's, Panera Bread, Subway, Burger King, Mrs. Fields, Taco Bell, Orange Julius, Boston Market, Popeyes, Sonic Drive-In, KFC, and many more.

Every recipe is created from scratch in Todd's top secret test kitchen, so you know you're getting the best original clone recipes on the planet!

Other books you may like: Top Secret Restaurant Recipes 3, and Top Secret Recipes Step-by-Step.

Contents
Arby's Horsey Sauce
Baja Fresh Salsa Baja
Bisquick Original All-Purpose Baking Mix
Boston Market Butternut Squash
Boston Market Garlic Dill New Potatoes
Boston Market Sweet Potato Casserole
Budweiser Chelada
Burger King Onion Rings
Burger King Zesty Onion Ring Dipping Sauce
Carl's Jr. The Six Dollar Burger
Carnegie Deli Classic New York City Cheesecake
Chex Mix Bold Party Blend
Chick-fil-A Honey Roasted BBQ Sauce
Chick-fil-A Carrot & Raisin Salad
Chipotle Mexican Grill Chipotle Honey Vinaigrette
Chipotle Mexican Grill Barbacoa Burrito
Cliff & Buster Coconut Macaroons
Cocoa-Cole Blak
Crunch 'N Munch Buttery Toffee Popcorn with Peanuts
Dairy Queen MooLatte
Del Taco Crispy Fish Taco
Duncan Hines Moist Deluxe Yellow Cake Mix
Dunkin' Donuts Coffee Coolatta
Einstein Bros. Bagels Santa Fe Egg Sandwich
El Pollo Loco Avocado Salsa
El Pollo Loco BBQ Baked Beans
El Pollo Loco Creamy Cilantro Dressing
Famous Amos Chocolate Chip Cookies
Fritos Hot Bean Dip
Hellman's/Best Foods Mayonnaise
Hidden Valley The Original Ranch Dressing
Jack in the Box Pumpkin Pie Shake
Jacquin's Peppermint Schnapps
Jason's Deli Creamy Liqueur Fruit Dipping Sauce
Jimmy Dean Breakfast Sausage--Regular
Jimmy Dean Breakfast Sausage--Maple
Jimmy Dean Breakfast Sausage--Hot
KFC Cajun Honey Wings
KFC Chicken Pot Pie
Kozy Shack Rice Pudding
Kraft Miracle Whip
Krispy Kreme Original Glazed Doughnuts
Lawry's Red Pepper Seasoned Salt (made with Tabasco)
Lipton Brisk Iced Tea
Lipton Diet Green Tea with Citrus
Lincoln Snacks Poppycock
Maid-Rite Loose Meat Sandwich
M&M/Mars Munch Bar
Mauna Loa Kona Coffee Glazed Macadamias
McDonald's Sweet Tea
McDonald's Vanilla Iced Coffee
McDonald's Cinnamon Melts
McDonald's Fruit & Walnut Salad
McDonald's Tangy Honey Mustard
McDonald's Lobster Sandwich
Mrs. Fields Cranberry White Chocolate Cookies
Mrs. Fields Pumpkin Harvest Cookies
No Pudge! Original Fat Free Fudge Brownie Mix
Nuts 4 Nuts Candied Nuts
Old Bay Seasoning
Orange Julius Banana Julius
Orange Julius Strawberry-Banana Classic Smoothie
Pal's Sauceburger
Panera Bread Broccoli Cheddar Soup
Panera B read Cranberry Walnut Bagel
Panera Bread French Onion Soup
Panera Bread Spinach Artichoke Baked Egg Soufflé
Pepperidge Farm Soft Baked Snickerdoodle Cookies
Popeyes Buttermilk Biscuits
Popeyes Cajun Gravy
Popeyes Cajun Sparkle
Popeyes Red Beans and Rice --Improved
Ragu Pasta Sauce--Meat
Ragu Pasta Sauce--Tomato, Basil, and Italian Cheese
Rondele Garlic & Herbs Cheese Spread
Sabra Classic Hummus
Skyline Chili
Sonic Drive-In Peanut Butter Shake
Sonic Drive-In Peanut Butter Fudge Shake
Sonic Drive-In Strawberry Cheesecake Shake
Sonic Drive-In Sonic Burger
Sonic Drive-In Hickory Burger
Sonic Drive-In Jalapeno Burger
The Soup Nazi's Crab Bisque
The Soup Nazi's Cream of Sweet Potato Soup
The Soup Nazi's Indian Mulligatawny
The Soup Nazi's Mexican Chicken Chili
Spatini Spaghetti Sauce Mix
Starbucks Caramel Macchiato
Starbucks Frappuccino (Bottle Version)
Starbucks Gingerbread Latte
Starbucks Hot Chocolate
Starbucks Mocha Coconut Frappuccino
Starbucks Carrot Cake
Starbucks Classic Coffee Cake
Starbucks Cranberry Bliss Bar
Starbucks Lemon Loaf
Starbucks Maple Oat Nut Scone
Starbucks Peppermint Brownie
Starbucks Pumpkin Bread
Starbucks Pumpkin Cream Cheese Muffin
Starbucks Pumpkin Scone
Starbucks Vanilla Almond Biscotti
Stouffer's Macaroni & Cheese
Subway Bourbon Street Glaze
Subway Chipotle Southwest Sauce
Subway Sweet Onion Sauce
Taco Bell Baja Sauce
Taco Bell Chicken Quesadilla
Taco Bell Mild Border Sauce
Wendy's Garden Sensations Mandarin Chicken Salad
Wendy's Wild Mountain Bacon Cheeseburger
Weight Watchers Smart Ones Banana Muffins
Yonah Schimmel Low-Fat New York City Knish

Read more

Exclusive signed copy. Ever wonder what makes McDonald's Special Sauce so special, or puts the supreme in a Taco Bell Burrito Supreme, or makes Newman's Own Creamy Caesar Dressing so darn good?

This cookbook includes all the step-by-step instructions for making your own professional quality clones. With a dash of spicy humor, a spoonful of food facts, and a hearty serving of culinary curiosity, Todd Wilbur serves up another batch of America's favorite recipes. Todd puts his sleuthing taste buds to work to bring us over 85 amazing new clones in Even More Top Secret Recipes.

Armed with his recipes and blueprints, you can now duplicate your favorite brand-name food, from famous hamburgers to candy bars and snack cakes, right in your own kitchen without spending a lot of dough. Discover how to make your own versions of KFC Extra Crispy Chicken, Girl Scout Cookies Thin Mints, Kraft Stove Top Stuffing, McDonald's French Fries, Panda Express Mandarin Chicken, Wendy's Spicy Chicken Fillet Sandwich, Cadbury Creme Egg, Boston Market Meatloaf, Cinnabon CinnabonStix, Hot Dog On A Stick Hot Dog, Drake's Devil Dogs, Nestle Baby Ruth, and many, many more!

Other books you may like: Top Secret Recipes Unlocked, Top Secret Restaurant Recipes 3

Contents
Arby's Bronco Berry Sauce
Auntie Anne's Pretzels
Baskin-Robbins Ice Cream Cake
Boston Market Meatloaf
Bull's-Eye Original BBQ Sauce
Burger King Big King
Burger King BK Broiler
Burger King Breakfast Sandwich--Biscuit Sandwich
Burger King Breakfast Sandwich--Croissan'wich
Cadbury's Creme Egg
Carl's Jr. Bacon Swiss Crispy Chicken Sandwich
Carl's Jr. Ranch Crispy Chicken Sandwich
Chef Paul Prudhomme's Poultry Magic
Cinnabon Cinnabonstix
Dolly Madison Zingers (Devil's Food)
Doubletree Chocolate Chip Cookies
Drake's Devil Dogs
Emeril's Original Essence
Fatburger Original Burger
French's Classic Yellow Mustard
Girl Scout Cookies Shortbread
Girl Scout Cookies Thin Mints
Good Seasons Italian Salad Dressing Mix
Grandma's Cookies Oatmeal Raisin Big Cookie
Grandma's Cookies Peanut Butter Big Cookie
Great American Cookies Snickerdoodles
Great American Cookies White Chunk Macadamia
Heinz 57 Sauce
Heinz Ketchup
Hershey's Payday Candy Bar
Honeybaked Ham Glaze
Hot Dog On A Stick
K.C. Masterpiece Original BBQ Sauce
Kellogg's Cocoa Rice Krispies treats
Kellogg's Peanut Butter Chocolate Rice Krispies Treats
Kenny Rogers Roasters Corn Muffins
KFC BBQ Baked Beans
KFC Extra Crispy Chicken
KFC Honey BBQ Wings
KFC Macaroni & Cheese
KFC Mashed Potatoes & Gravy
KFC Potato Salad
Kraft Deluxe Macaroni & Cheese
Kraft Shake 'N Bake
Kraft Stove Top Stuffing
Kraft Thousand Island Dressing
Lawry's Seasoned Salt
Lawry's Taco Spices & Seasoning
Little Debbie Oatmeal Creme Pies
McDonald's Arch Deluxe
McDonald's BigXtra
McDonald's Biscuits
McDonald's Breakfast Bagel Sandwich--Ham & Egg
McDonald's Breakfast Bagel Sandwich--Steak & Egg
McDonald's Breakfast Bagel Sandwich--Spanish Omelet
McDonald's Breakfast Burrito
McDonald's French Fries
McDonald's Hot Mustard Sauce
McDonald's Special Sauce
McDonald's Sweet & Sour Dipping Sauce
McDonald's Yogurt Parfait
Mrs. Dash Salt-Free Seasoning Blend
Nabisco Cheese Nips
Nabisco Nilla Wafers
Nestle Baby Ruth Candy Bar
Newman's Own Creamy Caesar Dressing
Pace Picante Sauce
Panda Express Mandarin Chicken
Panda Express Orange Flavored Chicken
Papa John's Dipping Sauces--Special Garlic Sauce
Papa John's Dipping Sauces--Cheese Sauce
Papa John's Dipping Sauces--Pizza Sauce
Pepperidge Farm Ginger Man Cookies
Progresso Italian-Style Bread Crumbs
Sabrett Onions In Sauce
Schilling Salad Supreme
Sunshine Lemon Coolers
Taco Bell Burrito Supreme
Taco Bell Chicken Fajita Seasoning Mix
Taco Bell Fire Border Sauce
Taco Bell Mexican Pizza
Taco Bell Soft Taco
Taco Bell Taco Seasoning Mix
Tommy's Original World-Famous Hamburgers
Wendy's Chicken Caesar Fresh Stuffed Pita
Wendy's Classic Greek Fresh Stuffed Pita
Wendy's Spicy Chicken Fillet Sandwich
Wienerschnitzel Chili Sauce

Read more

Exclusive signed copy. The book that started the copycat food craze! This irresistible collection of cloned recipes is the product of years of obsessive research by self-confessed convenience-food addict Todd Wilbur.

Big food manufacturers guard their recipes like the gold in Fort Knox, but Wilbur's dogged pursuit of taste-alike versions of his—and our—all-time favorites has paid off in this unique cookbook of scrumptious treats.

Whether you're a kid or just a kid at heart, you'll have a great time making the incredible clones of a McDonald's Big Mac, a Burger King Whopper, a Tastykake Butterscotch Krimpet, Yoo-Hoo Chocolate Drink, Reese's Peanut Butter Cup, Hostess Twinkie, Mrs. Fields Chocolate Chip Cookie, and many other famous American foods. Helpful illustrations let you recreate them to perfection. And both taste and guilty pleasures are just like the real thing.

Other books you may like: More Top Secret Recipes; Even More Top Secret Recipes.

Contents
Aunt Jemima Maple Syrup
Ben & Jerry's Heath Bar Crunch Ice Cream
Borden Cracker Jack
Brown & Haley Almond Roca
Burger King Whopper
Carl's Jr. Famous Star
Chick-fil-A Chicken Sandwich
Dairy Queen Blizzard
Hardee's French Fries
Hardee's 1/4-pound Hamburger
Hostess Twinkie
IHOP Pancakes
In-N-Out Double Double
Jack in the Box Jumbo Jack
Jack in the Box Taco
Kahlua Coffee Liqueur
Keebler Soft Batch Chocolate Chip Cookies
KFC Buttermilk Biscuits
KFC Cole Slaw
KFC Original Recipe Fried Chicken
Long John Silver's Batter-Dipped Fish
M&M/Mars Caramel Twix Bars
M&M/Mars Snickers Bar
McDonald's Big Mac
McDonald's Egg McMuffin
McDonald's McD.L.T.
Mrs. Fields Chocolate Chip Cookies
Mrs. Fields Peanut Butter Dream Bars
Orange Julius
Peter Paul Mounds and Almond Joy
Pogen's Gingersnaps
Reese's Peanut Butter Cups
Sara Lee Original Cream Cheesecake
See's Butterscotch Lollipop
Taco Bell Enchirito
TastyKake Butterscotch Krimpets
TastyKake Peanut Butter Kandy Kakes
Twin Dragon Almond Cookies
Wendy's Chili
Wendy's Frosty
Yoo-Hoo Chocolate Drink

Read more

Just like the pro chefs use. A secret blend of herbs and spices that will make your homemade steaks taste like they came from a famous steakhouse chain. All-natural. Contains no MSG or preservatives. Great for anyone who likes a truly amazing steak.

Top Secret Steak Rub is created by Food Hacker Todd Wilbur who has spent the last 30 years reverse-engineering popular menu items at the most-loved restaurant chains across America. By identifying the herbs, spices and other ingredients that make great restaurant food taste so good, Todd created this custom Top Secret Steak Rub to help you make restaurant-style steaks at home. All it takes is just a few shakes. Then cook the steaks your favorite way. Our Top Secret Steak Rub is also great on hamburger patties, vegetables, French fries, and popcorn!

Buy up to 5 bottles to ship for one low price!

7-ounce bottle. Money back guarantee. Kosher certified. Gluten-free.

You may also like our Top Secret Chicken Rub, and Top Secret Fish Rub.

Read more

Exclusive signed copy. Buy the #1 National Bestseller from America's Clone Recipe King, signed by the author, and we'll include a free bottle of our Hell Flakes, a 5-pepper microflake blend to kick up all your grub!

For more than thirty years, Todd Wilbur has been obsessed with recreating America's most iconic brand-name foods at home. In his first cookbook with color photos, the New York Times bestselling author brings you 125 new clone recipes: 75 first-time hacks and 50 overhauled all-time favorites. These recipes are not found individually on the website with the exception of just a few.

Each recipe comes with easy-to-follow step-by-step photos so that even novice cooks can perfectly recreate their favorite famous foods with everyday ingredients. And your homemade versions cost just a fraction of what the restaurants charge! The result of years of careful research, trial-and-error, and a little creative reverse-engineering.

Contents
Applebee's Mozzarella Sticks
Applebee's Oriental Chicken Salad
Applebee's Mexican Rice
Applebee's Fiesta Lime Chicken
Applebee's Maple Butter Blondie
Arby's Curly Fries
Auntie Anne's Pretzels
Ben & Jerry's Chocolate Chip Cookie Dough Ice Cream
Boston Market Meatloaf
Buba Gumps Seafood Hush Pups
Bubba Gump's Shrimp New Orleans
Burger King Stuffed Steakhouse Burger
Cafe Rio Creamy Tomatillo Dressing
Cafe Rio Sweet Pork Barbacoa
Cafe Rio Tres Leches Cake
Capital Grille Creamed Corn with Smoked Bacon
Capital Grille Lobster Mac 'N' Cheese
Capital Grille Classic Creme Brulee
Carrabba's Cozze in Bianco (Steamed Mussels)
Carrabba's Pollo Rosa Maria
Cheesecake Factory Fried Macaroni and Cheese
Cheesecake Factory Stuffed Mushrooms
Cheesecake Factory Mashed Red Potatoes
Cheesecake Factory Chicken Madeira
Cheesecake Factory Louisiana Chicken Pasta
Cheesecake Factory Fresh Strawberry Cheesecake
Cheesecake Factory Vanilla Bean Cheesecake
Chick-fil-A Chicken Sandwich
Chili's California Grilled Chicken Flatbread
Chili's Chipotle Chicken Flatbread
Chili Grilled Baby Back Ribs
Chili's® Molten Chocolate Cake
Chipotle Mexican Grill Black Beans
Chipotle Mexican Grill Cilantro Lime Brown Rice
Chipotle Mexican Grill Adobo-Marinated Grilled Chicken & Steak
Fudgsicle Original Fudge Bars
Girl Scout Cookies Trefoils/Shortbread Cookies
Hostess CupCakes
Hostess Twinkie
Houston's Chicago-Style Spinach Dip
IHOP New York Cheesecake Pancakes
IHOP Original Buttermilk Pancakes
IKEA Swedish Meatballs
Jack-in-the-Box Beef Taco
KFC Cole Slaw
KFC Grilled Chicken
KFC Original Recipe Fried Chicken
Legal Sea Foods New England Clam Chowder
Legal Sea Foods Legal's Signature Crab Cakes
Lofthouse Frosted Cookies
Long John Silver's Tartar Sauce
Long John Silver's Battered Fish
Marie Callender's Famous Golden Cornbread
Marie Callender's Banana Cream Pie
Mauna Loa Kona Coffee Glazed Macadamias
McDonald's McCafe Blueberry Pomegranate Smoothie
McDonald's Sweet Chili Chicken McWrap
McDonald's Big Mac
McDonald's McRib Sandwich
McDonald's Apple Pie (Baked & Fried)
The Melting Pot Cheddar Cheese Fondue
The Melting Pot Traditional Swiss Cheese Fondue
Mrs. Fields Chocolate Chip Cookies
Nordstrom Roma Tomato Basil Soup
Nuts 4 Nuts Honey Roasted Nuts
Olive Garden Garden Fresh Salad & Salad Dressing
Orange Julius Original Orange Julius
The Original Pancake House Apple Pancake
The Original Pancake House Dutch Baby
The Original Pancake House Sourdough Pancakes
Outback Steakhouse Honey Wheat Bushman Bread
Outback Steakhouse Bloomin' Onion
Outback Steakhouse Kookaburra Wings
Panera Bread Broccoli Cheddar Soup
Panera Bread Asian Sesame Chicken Salad
Panera Bread Fuji Apple Chicken Salad
Panera Bread Spinach & Bacon Baked Egg Soufflé
Pepperidge Farm Milano Cookies
P.F. Chang's Chicken Lettuce Wraps
P.F. Chang's Oolong Chilean Sea Bass
Pinkberry Original Frozen Yogurt
Pinkberry Pomegranate Frozen Yogurt
Raising Cane's Cane's Sauce
Raising Cane's Chicken Fingers
Red Lobster Cheddar Bay Biscuits
Red Lobster Pumpkin Pie in a Jar
Roy's Braised Short Ribs of Beef
Roy's Misoyaki "Butterfish"
Roy's Melting Hot Chocolate Soufflé
Rubio's Mild Salsa
Rubio's Red Tomatillo Salsa
Rubio's Grilled Gourmet Taco with Shrimp
Rubio's Original Fish Taco
Ruth's Chris Steak House Barbecued Shrimp
Ruth's Chris Steak House Ruth's Chop Salad
Ruth's Chris Steak House Sweet Potato Casserole
Ruth's Chris Steak House Chris Filet
Sabra Classic Hummus
St. Elmo Steak House Shrimp Cocktail
Starbucks Birthday Cake Cake Pops
Starbucks Holiday Gingerbread
Steak 'n Shake Classic Milk Shakes
Steak 'n Shake Genuine Chili
Steak 'n Shake The Original Double 'n Cheese Steakburger
Taco Bell CrunchWrap Supreme
Taco Bell Mexican Pizza
TGI Friday's Loaded Potato Skins
TGI Friday's Jack Daniel's Sauce
TGI Friday's Dragonfire Salmon
Tony Roma's Baby Back Ribs
Tony Roma's Original Barbecue Sauce
Tony Roma's Carolina Honeys Barbecue Sauce
Waffle House Waffles
Wendy's Chili
Wendy's Pretzel Bacon Cheeseburger

Craving more of Todd's recipes? There are 12 cookbooks in all!

Read more

Exclusive signed copy. In the follow-up to his first and best-selling cookbook, Top Secret Recipes, intrepid kitchen sleuth Todd Wilbur, shows you how to make home versions of over 40 of your favorite foods! Duplicate the taste of Nabisco Oreo Cookies, J & J Super Pretzels, Dunkin' Donuts, Little Caesar's Crazy Bread and many more! All of the recipes are shockingly easy to prepare—with ingredients from your local supermarket.

Wilbur's fabulous clones leave out the preservatives and included suggestions for making high-cholesterol dishes lower in fat—without changing the tastes we all love.

Find out: What puts the "snap" in Snapple Iced Tea. How to put the shine on the Super Pretzel. How to create the most important ingredient in a 3 Musketeers bar. What puts the "sensation" in a York Peppermint Pattie. Included, too, are the fascinating origins of each product; Todd Wilbur's own amazing kitchen adventures, narrow escapes, and near-death experiences; even his learned-the-hard-way cooking tips.

Other books you may like: Top Secret Recipes, Even More Top Secret Recipes, and Top Secret Recipes Unlocked

Contents
A&W Root Beer
Arby's Sauce
Bailey's Original Irish Cream
Carl's Jr. Chicken Club
Carl's Jr. Santa Fe Chicken
Carl's Jr. Western Bacon Cheeseburger
Carl's Jr. Junior Western Bacon Cheeseburger
Carl's Jr. Double Western Bacon Cheeseburger
Cinnabon Cinnamon Rolls
Dunkin' Donuts
El Pollo Loco Flame-Broiled Chicken
El Pollo Loco Salsa
Keebler Pecan Sandies
Little Caesar's Crazy Bread
Little Caesar's Crazy Sauce
M&M/Mars Almond Bar
M&M/Mars Milky Way
M&M/Mars 3 Musketeers
McDonald's Filet-O-Fish
McDonald's Hamburger
McDonald's Quarter Pounder w/Cheese
Nabisco Chips Ahoy!
Nabisco Nutter Butter
Nabisco Oreo Cookie
Nestle Crunch
Nestle 100 Grand Bar
Orange Julius Strawberry Julius
Orange Julius Pineapple Julius
Popeye's Famous Fried Chicken
Popeye's Red Beans and Rice
Snapple Lemon Iced Tea
Snapple Diet Lemon Iced Tea
Snapple Orange Iced Tea
Snapple Strawberry Iced Tea
Snapple Cranberry Iced Tea
Stark May Jane
Super Pretzels
Taco Bell Hot Taco Sauce
TastyKake Chocolate Cupcakes
Wendy's Grilled Chicken Fillet Sandwich
Wendy's Junior Bacon Cheeseburger
Wendy's Single
White Castle Burgers
York Peppermint Pattie

Read more

Menu Description: "Here they are in all their lip-smacking, award-winning glory: Buffalo, New York-style chicken wings spun in your favorite signature sauce."

Since Buffalo, New York was too far away, Jim Disbrow and Scott Lowery satisfied their overwhelming craving in 1981 by opening a spicy chicken wing restaurant close to home in Kent, Ohio. With signature sauces and a festive atmosphere, the chain has now evolved from a college campus sports bar with wings to a family restaurant with over 300 units. While frying chicken wings is no real secret—simply drop them in hot shortening for about 10 minutes—the delicious spicy sauces make the wings special. There are 12 varieties of sauce available to coat your crispy chicken parts at the chain, and I'm presenting clones for the more traditional flavors. These sauces are very thick, almost like dressing or dip, so we'll use an emulsifying technique that will ensure a creamy final product where the oil won't separate from the other ingredients. Here is the chicken wing cooking and coating technique, followed by clones for the most popular sauces: Spicy Garlic, Medium and Hot. The sauce recipes might look the same at first, but each has slight variations make your sauce hotter or milder by adjusting the level of cayenne pepper. You can find Frank's pepper sauce by the other hot sauces in your market. If you can't find that brand, you can also use Crystal Louisiana hot sauce.

Source: Top Secret Restaurant Recipes 2 by Todd Wilbur.

Read more

Exclusive signed copy. Todd Wilbur shares his best kept secrets for making knockoffs of your favorite drinks—right in your own kitchen and without spending a lot of money.

You can re-create the delicious taste of America's most popular brand-name soft drinks, beverages, dessert drinks, mixers, and liqueurs by following Todd's easy, step-by-step instructions. If it comes in a glass, cup, bottle, or mug, it's here for you to clone at home.

Discover how to make your own versions of: Nestea, Cinnabon Icescape, Jamba Juice Smoothies, Orange Julius, Red Robin Jamaican Shake, Bailey's Irish Cream, Sonic Drive In Cream Pie Shakes, Dairy Queen Blizzard. Plus dozens of specialty drinks from T.G.I Friday's, Chili's, Hard Rock Cafe, Outback Steakhouse, Applebee's, House of Blues, Olive Garden, Red Lobster, Claim Jumper, and many more from your favorite restaurant chains. Over 200 popular recipes in all!

Other books you may like: Even More Top Secret Recipes and Top Secret Restaurant Recipes 3.

Sodas
A&W Cream Soda
A&W Root Beer
Coca-Cola
Orange Slice
7UP
Sonic Drive-In Cherry Limeade
Sonic Drive-In Strawberry Limeade
Sonic Drive-In Ocean Water
Squirt
T.G.I. Friday's November Sea Breeze Fling
T.G.I. Friday's Strawberry Surprise Fling

Smoothies
Applebee's Bananaberry Freeze
Baskin-Robbins Peach Smoothie
Baskin-Robbins Strawberry Smoothie
Baskin-Robbins Strawberry Banana Smoothie
Baskin-Robbins Wild Berry Banana Smoothie
Jamba Juice Banana Berry
Jamba Juice Citrus Squeeze
Jamba Juice Cranberry Craze
Jamba Juice Orange-A-Peel
Jamba Juice Peach Pleasure
Jamba Juice Strawberries Wild
Orange Julius Pineapple Julius
Orange Julius Strawberry Julius
Red Robin Chillin Mango Smoothie
Red Robin Groovy Smoothies
Starbucks Tazoberry Tea
Starbucks Tazoberry Tea & Cream
T.G.I. Friday's Tropical Oasis Smoothie

Shakes
Arby's Jamocha Shake
Baskin-Robbins B.R. Blast--Cappuccino
Baskin-Robbins B.R. Blast--Mocha
Cinnabon Icescapes--Strawberry
Cinnabon Icescapes--Orange
Cinnabon Icescapes--Mochalatta Chill
Dairy Queen Blizzard--Baby Ruth
Dairy Queen Blizzard--Banana Pudding
Dairy Queen Blizzard--Banana Split
Dairy Queen Blizzard--Berry Banana
Dairy Queen Blizzard--Chocolate Chip
Dairy Queen Blizzard--Chocolate Chip Cookie Dough
Dairy Queen Blizzard--Hawaiian
Dairy Queen Blizzard--Whopp'n' Wild
Dairy Queen Blizzard--Yukon Cruncher
Jack in the Box Oreo Cookie Shake
McDonald's McFlurry--Butterfinger
McDonald's McFlurry--M&M's
McDonald's McFlurry--Oreo Cookie
McDonald's McFlurry--Reese's
McDonald's Shakes--Chocolate
McDonald's Shakes--Strawberry
McDonald's Shakes--Vanilla
McDonald's Shamrock Shake
Sonic Drive-In Cream Pie Shakes--Banana
Sonic Drive-In Cream Pie Shakes--Chocolate
Sonic Drive-In Cream Pie Shakes--Coconut
Sonic Drive-In Cream Pie Shakes--Strawberry
Starbucks Frozen Frappuccino--Coffee
Starbucks Frozen Frappuccino--Caramel
Starbucks Frozen Frappuccino--Mocha Coconut
Wendy's Frosty

Other Sips
Arizona Green Tea w/Ginseng and Honey
Arizona Iced Tea w/Ginseng
Cinnabon Strawberry Lemonade
General Foods International Coffees--Cafe Vienna
General Foods International Coffees--French Vanilla Cafe
General Foods International Coffees--Hazelnut Belgian Cafe
General Foods International Coffees--Suisse Mocha
General Foods International Coffees--Viennese Chocolate Cafe
Hawaiian Punch Fruit Juicy Red
Hot Dog On A Stick Muscle Beach Lemonade
Minute Maid All Natural Lemonade
Nestea Natural Lemon Flavored Iced Tea
Red Robin Freckled lemonade
Red Robin Strawberry Ecstasy
7-Eleven Cherry Slurpee
Snapple Iced Tea--Cranberry Iced Tea
Snapple Iced Tea--Diet Lemon Iced Tea
Snapple Iced Tea--Lemon Iced Tea
Snapple Iced Tea--Orange Iced Tea
Snapple Iced Tea--Peach Iced Tea
Snapple Iced Tea--Raspberry Iced Tea
Sunny Delight
Yoo-Hoo Chocolate Drink
Yoo-Hoo Mix-ups--Chocolate-Banana
Yoo-Hoo Mix-ups--Chocolate-Mint
Yoo-Hoo Mix-ups--Chocolate-Strawberry

Spirits: Schnapps & Liqueurs
Bailey's Original Irish Cream
Dekuyper Thrilla Vanilla French Vanilla Liqueur
Disaronno Amaretto
Grand Marnier Liqueur
Hiram Walker Annisette Liqueur
Hiram Walker Creme De Banana Liqueur
Hiram Walker Creme De Cacao Liqueur
Hiram Walker Creme De Menthe Liqueur
Hiram Walker Creme De Strawberry Liqueur
Hiram Walker Razz Attack Raspberry Schnapps
Hiram Walker Root Beer Schnapps
Kahlua Coffee Liqueur
Marie Brizard Watermelon Liqueur
Midori Melon Liqueur

Spirits: Cocktails
Applebee's Bananaberry Split
Applebee's Blue Skies
Applebee's Perfect Margarita
Applebee's Summer Squeeze
Bahama Breeze Bahama Mama
Bahama Breeze Caribbean Magic
Bahama Breeze Malimbo Breeze
Bahama Breeze Verry Berry Good
Bennigan's Emerald Isle Iced Tea
Bennigan's Irish Coffee
Bennigan's O'Malley's Orange Cooler
Bennigan's Raspberry Road Iced Tea
Cheesecake Factory Caribbean Cooler
Cheesecake Factory Key Lime Martini
Cheesecake Factory J.W. Pink Lemonade
Cheesecake Factory Twilight Zone
Cheesecake Factory Tropical Martini
Chevys 100% Blue Agave Margarita
Chevys House Rocks Margarita
Chevys Lava Lamp Margarita
Chevys The Sunburn Margarita
Chevys Ultimate Orange Margarita
Chevys Watermelon Fresh Fruit Margarita (On the Rocks)
Chili's Calypso Cooler
Chili's Chambord 1800 Margarita
Chili's Jamaican Paradise
Chili's Mandrin Blush
Chili's Margarita Presidente
Chili's Tropical Sunburn
Chili's Twisted Lemonade
Claim Jumper Absolutely Electric Lemonade
Claim Jumper Bermuda Sunset
Claim Jumper Hawaiian Punch
Claim Jumper Mai Tai
Claim Jumper Otter Pop
Claim Jumper Root Beer Float
Claim Jumper Shark On The Beach
Claim Jumper Tropical Storm
Hard Rock Cafe The Hard Rock Hurricane
Hard Rock Cafe Lynchburg Lo--Rider
Hard Rock Cafe Shooters--Lemon Drop
Hard Rock Cafe Shooters--Purple Shooter
House of Blues Eve's Revenge Martini
House of Blues HOB Blue Martini
House of Blues HOB Cruiser
House of Blues Mo' Betta Blues
Joe's Crab Shack Joe Makin' Me Java
Joe's Crab Shack Joe's Ya Ya
Joe's Crab Shack Red Snapper
Joe's Crab Shack Secret Passion Punch
Joe's Crab Shack Shark Tooth
Joe's Crab Shack Swamp Moss
Olive Garden Chocolate Almond Amore
Olive Garden Italian Margarita
Olive Garden Strawberry Siciliano
Olive Garden Venetian Sunset
Outback Steakhouse Coral Reef 'Rita
Outback Steakhouse Don't Koala Me, I'll Koala You Cooler
Outback Steakhouse Great Barrier Punch
Outback Steakhouse Melbourne Cooler
Outback Steakhouse Wallaby Darned
P.F. Chang's Buddha's Dream
P.F. Chang's Heat Wave
P.F. Chang's Nutty Uncle Chang's Favorite
P.F. Chang's The Poolside
Planet Hollywood The Comet
Planet Hollywood Cool Running
Planet Hollywood Meet Jack Black
Planet Hollywood Shooters--Blue Hawaii
Planet Hollywood Shooters--Bubble Gum
Planet Hollywood Shooters--Grape Crush
Planet Hollywood Shooters--Peanut Butter & Jelly
Planet Hollywood Sweet Death Becomes Her
Planet Hollywoo0d Terminator
Red Lobster Bahama Mama
Red Lobster Butter-Tini Funtini
Red Lobster The Hawaiian Funtini
Red Lobster Red Passion Colada
Red Robin Absolut Lemonade
Red Robin Jamaican Shake
Red Robin Sand In Your Shorts
Red Robin T.N.T
T.G.I. Friday's Banana Split Blender Blaster
T.G.I. Friday's Electric Lemonade
T.G.I. Friday's Hawaiian Volcano
T.G.I. Friday's June Bug
T.G.I. Friday's Lights of Havana
T.G.I. Friday's Strawberry Shortcake Blender Blaster
Z'Tejas Z' Big Stick Margarita
Z'Tejas Famous Chambord Raspberry Margarita

Spirits: Mixers
Beau Rivage Bloody Mary Mix
Mara Simple Syrup
Mr. & Mrs. T Bloody Mary Mix
Mr. & Mrs. T Sweet & Sour Mix
Restaurant-Style Mai Tai Mix
Restaurant-Style Pina Colada Mix
Restaurant-Style Sweet & Sour Mix

Read more

In early 1985, restaurateur Rich Komen felt there was a specialty niche in convenience-food service just waiting to be filled. His idea was to create an efficient outlet that could serve freshly made cinnamon rolls in shopping malls throughout the country. It took nine months for Komen and his staff to develop a cinnamon roll recipe he knew customers would consider the "freshest, gooiest, and most mouthwatering cinnamon roll ever tasted." The concept was tested for the first time in Seattle's Sea-Tac mall later that year, with workers mixing, proofing, rolling, and baking the rolls in full view of customers. Now, more than 626 outlets later, Cinnabon has become the fastest-growing cinnamon roll bakery in the world.

Use my Cinnabon Cinnamon Rolls copycat recipe below to make delicious homemade Cinnabon, or try my improved recipe here, which I perfected with the help of Cinnabon HQ.

Source: More Top Secret Recipes by Todd Wilbur.

Read more

Popeyes Famous Fried Chicken and Biscuits has become the third-largest quick-service chicken chain in the world in the twenty-two years since its first store opened in New Orleans in 1972. (KFC has the number-one slot, followed by Church's Chicken). Since then, the chain has grown to 813 units, with many of them overseas in Germany, Japan, Jamaica, Honduras, Guam, and Korea.

While making my Popeyes Fried Chicken recipe, I tested several spices and I found that the right blend of cayenne and white pepper bring the same heat as the original. Try my recipe below and see what you think.

You might also like to get your hands on my recipes for Popeyes Chicken Sandwich and Popeyes biscuits.

Source: More Top Secret Recipes by Todd Wilbur.

Read more

I never thought dinner rolls were something I could get excited about until I got my hand into the breadbasket at Texas Roadhouse. The rolls are fresh out of the oven and they hit the table when you do, so there's no waiting to tear into a magnificently gooey sweet roll topped with soft cinnamon butter. The first bite you take will make you think of a fresh cinnamon roll, and then you can't stop eating it. And when the first roll's gone, you are powerless to resist grabbing for just one more. But it's never just one more. It's two or three more, plus a few extra to take home for tomorrow.

Discovering the secret to making rolls at home that taste as good as Texas Roadhouse Rolls involved making numerous batches of dough, each one sweeter than the last (sweetened with sugar, not honey—I checked), until a very sticky batch, proofed for 2 hours, produced exactly what I was looking for. You can make the dough with a stand mixer or a handheld one, the only difference being that you must knead the dough by hand without a stand mixer. When working with the dough add a little bit of flour at a time to keep it from sticking, and just know that the dough will be less sticky and more workable after the first rise.

Roll the dough out and measure it as specified here, and after a final proofing and a quick bake—plus a generous brushing of butter on the tops—you will produce dinner rolls that look and taste just like the best rolls I've had at any famous American dinner chain.

This recipe was our #1 most popular in 2019. Check out the other four most unlocked recipes for the year: KFC Extra Crispy Fried Chicken (#2), Olive Garden Braised Beef Bolognese (#3), Pizzeria Uno Chicago Deep Dish Pizza (#4), Bush's Country Style Baked Beans (#5).

Read more

By sneaking around to the back of a HoneyBaked Ham store, I witnessed the glazing process through an open door. The hams are delivered to each of the 300 HoneyBaked outlets already smoked, but without the glaze. It is only when the ham gets to your local HoneyBaked store that a special machine thin-slices the tender meat in a spiral fashion around the bone. Then, one at a time, each ham is then coated with the glaze—a blend that is similar to what might be used to make pumpkin pie. This sweet coating is then caramelized with a blowtorch by hand until the glaze bubbles and melts, turning golden brown. If needed, more of the coating is added to the HoneyBaked Glazed Ham, and the blowtorch is fired up until the glaze is just right. It's this careful process that turns the same size ham that costs 20 dollars in a supermarket into one that customers gladly shell out 3 to 4 times as much to share during the holiday season.

For my HoneyBaked Ham glaze copycat recipe, we will re-create the glaze that you can apply to a smoked/cooked bone-in ham of your choice. Look for a ham that is pre-sliced. Otherwise, you'll have to slice it yourself with a sharp knife, then the glaze will be applied. To get the coating just right, you must use a blowtorch. Get the kind that is used for crème brûlée from almost any kitchen supply store. They're usually pretty cheap. And don't worry—I didn't leave out an ingredient. No honey is necessary to re-create this flavorful glaze.

Now, what's for dessert?

Source: Even More Top Secret Recipes by Todd Wilbur.

Read more

Anyone who loves Olive Garden is probably also a big fan of the bottomless basket of warm, garlicky breadsticks served before each meal at the huge Italian casual chain. My guess is that the breadsticks are proofed, and then sent to each restaurant where they are baked until golden brown, brushed with butter and sprinkled with garlic salt. Getting the bread just right for a great Olive Garden breadstick hack was tricky—I tried several different amounts of yeast in all-purpose flour, but then settled on bread flour to give these breadsticks the same chewy bite as the originals. The two-stage rising process is also a crucial step in this much requested Olive Garden breadstick copycat recipe.

Complete the bottomless experience with my Olive Garden Italian salad dressing recipe.

Source: Top Secret Restaurant Recipes 3 by Todd Wilbur.

Read more

Getting a table at the 123-year-old original Rao's restaurant in New York City is next to impossible. The tables are "owned" by regulars who schedule their meals months in advance, so every table is full every night, and that's the way it's been for the last 38 years. The only way an outsider would get to taste the restaurant's fresh marinara sauce is to be invited by a regular.

If that isn't in the stars for you, you could buy a bottle of the sauce at your local market (if they even have it). It won't be fresh, and it's likely to be the most expensive sauce in the store, but it still has that great Rao's taste. An even better solution is to copy the Rao's Marinara sauce for yourself using this new and very easy recipe.

The current co-owner of Rao's, Frank Pellegrino Jr., told Bon Appetit in 2015 that the famous marinara sauce was created by his grandmother many years ago, and the sauce you buy in stores is the same recipe served in his restaurants. The ingredients are common, but correctly choosing the main ingredient—tomatoes—is important. Try to find San Marzano-style whole canned tomatoes, preferably from Italy. They are a little more expensive than typical canned tomatoes, but they will give you some great sauce.

After 30 minutes of cooking, you'll end up with about the same amount of sauce as in a large jar of the real thing. Your version will likely be just a little bit brighter and better than the bottled stuff, thanks to the fresh ingredients. But now you can eat it anytime you want, with no reservations, at a table you own.

This recipe was our #1 most popular in 2020. Check out the other four most unlocked recipes for the year: Olive Garden Lasagna Classico (#2), King's Hawaiian Original Hawaiian Sweet Rolls (#3), Pei Wei Better Orange Chicken (#4), Chipotle Mexican Grill Carnitas (#5).

You might also like my #1 recipe of 2019, Texas Roadhouse Rolls.

Read more

Jerrico, Inc., the parent company for Long John Silver's Seafood Shoppes, got its start in 1929 as a six-stool hamburger stand called the White Tavern Shoppe. Jerrico was started by a man named Jerome Lederer, who watched Long John Silver's thirteen units dwindle in the shadow of World War II to just three units. Then, with determination, he began rebuilding. In 1946 Jerome launched a new restaurant called Jerry's and it was a booming success, with growth across the country. Then he took a chance on what would be his most successful venture in 1969, with the opening of the first Long John Silver's Fish 'n Chips. The name was inspired by Robert Louis Stevenson's Treasure Island. In 1991 there were 1,450 Long John Silver Seafood Shoppes in thirty-seven states, Canada, and Singapore, with annual sales of more than $781 million. That means the company holds about 65 percent of the $1.2 billion quick-service seafood business.

These days, it seems there are less and less Long John Silver restaurants. Good thing you can follow my Long John Silver's Batter-Dipped Fish copycat recipe below and enjoy that same great flavor at home.

Make my Islands French Fries copycat recipe for the classic fish 'n chips experience.

Source: Top Secret Recipes by Todd Wilbur.

Read more

For two years after the first Olive Garden restaurant opened in 1982, operators were still tweaking the restaurant's physical appearance and the food that was served. Even the tomato sauce was changed as many as 25 times. It's that sort of dedication that creates fabulous dishes like this popular soup. It blends the flavors of potatoes, kale, and Italian sausage in a slightly spicy chicken and cream broth.

Try my Olive Garden Zuppa Toscana copycat recipe below along with your own bottomless Olive Garden House Salad and Breadsticks. Find more of my Olive Garden clone recipes here.

Source: Top Secret Restaurant Recipes by Todd Wilbur.

Read more

Menu Description: "Made from scratch in our kitchens using fresh Grade A Fancy Russet potatoes, fresh chopped onion, natural Colby cheese and spices. Baked fresh all day long."

In the late sixties, Dan Evins was a Shell Oil "jobber" looking for a new way to market gasoline. He wanted to create a special place that would arouse curiosity, and would pull travelers off the highways. In 1969 he opened the first Cracker Barrel just off Interstate 40 in Lebanon, Tennessee, offering gas, country-style food, and a selection of antiques for sale. Today there are over 529 stores in 41 states, with each restaurant still designed as a country rest stop and gift store. In fact, those stores which carry an average of 4,500 different items apiece have made Cracker Barrel the largest retailer of American-made finished crafts in the United States.

Those who know Cracker Barrel love the restaurant for its delicious home-style breakfasts. This casserole, made with hash brown-sliced potatoes, Colby cheese, milk, beef broth, and spices, is served with many of the classic breakfast dishes at the restaurant. My Cracker Barrel Hash Brown Casserole recipe is designed for a skillet that is also safe to put in the oven (so no plastic handles). If you don't have one of those, you can easily transfer the casserole to a baking dish after it is done cooking on the stove.

Love Cracker Barrel? Check out my other clone recipes here.

Source Top Secret Restaurant Recipes by Todd Wilbur.

Read more

The talented chefs at Benihana cook food on hibachi grills with flair and charisma, treating the preparation like a tiny stage show. They juggle salt and pepper shakers, trim food with lightning speed, and flip the shrimp and mushrooms perfectly onto serving plates or into their tall chef's hat.

One of the side dishes that everyone seems to love is the fried rice. At Benihana this dish is prepared by chefs with precooked rice on open hibachi grills, and is ordered a la cart to complement any Benihana entrée, including Hibachi Steak and Chicken. I like when the rice is thrown onto the hot hibachi grill and seems to come alive as it sizzles and dances around like a bunch of little jumping beans. Okay, so I'm easily amused.

My Benihana Japanese fried rice copycat recipe will go well with just about any Japanese entrée, and can be partially prepared ahead of time and kept in the refrigerator until the rest of the meal is close to done.

Re-create more of your favorite dishes from Benihana here.

Source: Top Secret Restaurant Recipes by Todd Wilbur.

Read more

A popular staple of any Chinese chain is fried rice, so it better be good, and the version served at Panda Express most certainly is. Here's my easy Panda Express Fried Rice recipe for when you need a stress-free, low-cost side for your entrées. But I do suggest that you cook the white rice several hours or even a day or two before you plan to make the finished dish. I found that the cooked rice called for in this recipe works best when it's cold.

As for a shortcut, bagged frozen peas and carrots will save you from the hassle of petite-dicing carrots since the carrots in those bags are the perfect size to produce an identical clone. And they're already cooked.

This recipe was our #3 most popular in 2021. Check out the other four most unlocked recipes for the year: Panda Express Chow Mein (#1), Qdoba 3-Cheese Queso (#2), Outback Baked Potato Soup (#4), Chipotle Carne Asada (#5).

Read more

Just like the pro chefs use. If you like restaurant-style rotisserie chicken, you'll go crazy over our Top Secret Chicken Rub. It's a secret blend of spices that will make your homemade chicken taste like it came from a famous rotisserie chicken chain. All natural. Contains no MSG or preservatives. Great for anyone who loves chicken.

Top Secret Chicken Rub is created by Food Hacker Todd Wilbur who has spent the last 30 years reverse-engineering popular menu items at the most-loved restaurant chains across America. By identifying the herbs, spices and other ingredients that make great restaurant food taste so good, Todd created this custom Top Secret Chicken Rub to help you make amazing rotisserie-style chicken at home. All it takes is just a few shakes. Then cook the chicken your favorite way.

Buy up to 5 bottles to ship for one low price!

5.8-ounce bottle. Money back guarantee. Kosher certified. Gluten-free.

You may also like our Top Secret Steak Rub and our Top Secret Fish Rub.

Read more

In the early 90's Boston Chicken was rockin' it. The home meal replacement chain's stock was soaring and the lines were filled with hungry customers waiting to sink their teeth into a serving of the chain's delicious rotisserie chicken. The chain was so successful with chicken, the company quickly decided it was time to introduce other entrée selections, the first of which was a delicious barbecue sauce-covered ground sirloin meatloaf.

Offering the other entrées presented the company with a dilemma: what to do about the name. The bigwigs decided it was time to change the name to Boston Market, to reflect a wider menu. That meant replacing signs on hundreds of units and retooling the marketing campaigns. That name change, plus rapid expansion of the chain and growth of other similar home-style meal concepts, sent the company into a tailspin. By 1988, Boston Market's goose was cooked, and the company filed for bankruptcy. Soon McDonald's stepped in to purchase the company, with the idea of closing many of the stores for good, and slapping Golden Arches on the rest. But that plan was scrapped when, after selling many of the under-performing Boston Markets, the chain began to fly once again. Within a year of the acquisition Boston Market was profitable, and those meals with the home-cooked taste are still being served at over 700 Boston Market restaurants across the country.

Use my Boston Market Meatloaf copycat recipe below to copy the flavor of that first non-chicken dish, a delicious barbecue sauce-covered ground sirloin meatloaf. You might also like to try my Boston Market side-dish recipes here.

Source: Even More Top Secret Recipes by Todd Wilbur.

Read more

Crafting an Olive Garden's signature Lasagna Classico recipe became the perfect opportunity to create a beautiful multi-layered lasagna hack recipe that uses up the whole box of lasagna noodles and fills the baking pan all the way to the top. This Top Secret Recipe makes a lasagna that tips the scale at nearly 10 pounds and will feed hungry mouths for days, with every delicious layer copied directly from the carefully dissected Olive Garden original.

I found a few credible bits of intel in a video of an Olive Garden chef demonstrating what he claims is the real formula on a midday news show, but the recipe was abbreviated for TV and the chef left out some crucial information. One ingredient he conspicuously left out of the recipe is the secret layer of Cheddar cheese located near the middle of the stack. I wasn't expecting to find Cheddar in lasagna, but when I carefully separated the layers from several servings of the original dish, there was the golden melted cheesy goodness in every slice.

This clone recipe will make enough for 8 big portions, but if you make slightly smaller slices this is easily enough food to fill twelve lasagna-loving bellies. If you like lasagna, you're going to love this version.

This recipe was our #2 most popular in 2020. Check out the other four most unlocked recipes for the year: Rao's Homemade Marinara Sauce (#1), King's Hawaiian Original Hawaiian Sweet Rolls (#3), Pei Wei Better Orange Chicken (#4), Chipotle Mexican Grill Carnitas (#5).

Read more

Menu Description: "Tender, crispy wild gulf shrimp tossed in a creamy, spicy sauce."

Bonefish Grill proudly refers to this appetizer as the "house specialty." And why not, it's an attractive dish with bang-up flavor, especially if you like your food on the spicy side. The heat in my Bonefish Grill Bang Bang Shrimp recipe comes from the secret sauce blend that's flavored with chili garlic sauce, also known as sambal. You can find this bright red sauce where the Asian foods are in your market—and while you're there, pick up some rice vinegar. Once the sauce is made, you coat the shrimp in a simple seasoned breading, fry them to a nice golden brown, toss them gently in the sauce, and then serve them up on a bed of mixed greens to hungry folks who, hopefully, have a cool drink nearby to mellow the sting.

You might also like my recipes for Bonefish Grill's Saucy Shrimp and Citrus Herb Vinaigrette.

Source: Top Secret Restaurant Recipes 3 by Todd Wilbur.

Read more

Menu Description: "Quickly-cooked steak with scallions and garlic."

Beef lovers go crazy over this one at P.F. Chang's. Flank steak is cut into bite-sized chunks against the grain, then it's lightly dusted with potato starch, flash-fried in oil, and doused with an amazing sweet soy garlic sauce. The beef comes out tender as can be, and the simple sauce sings to your taste buds.

I designed my P.F. Chang's Mongolian Beef recipe using a wok, but if you don't have one, a sauté pan will suffice. You may need to add more oil to the pan to cover the beef in the flash-frying step.

P. F. Chang's secret sauce is what makes this dish so good, and it's versatile. If you don't dig beef, you can substitute with chicken. Or you can brush it on grilled salmon.

I've cloned some of the best dishes from P.F. Chang's. Click here to see if I coped your favorite.

Source: Top Secret Restaurant Recipes 2 by Todd Wilbur.

Read more

Exclusive signed copy. In this follow-up to Top Secret Recipes Lite!, bestselling author Todd Wilbur shows you how to re-create your favorite brand-name foods and restaurant recipes at a fraction of the calories, and how to create popular and tasty low-fat dishes and treats—in the privacy of your very own kitchen.

Discover the secrets behind Todd Wilbur's delicious lower-fat versions of: McDonald's Egg McMuffin, Olive Garden Chicken Parmigiana Sandwich, T.G.I. Friday's Potato Skins, Wendy's Classic Greek Fresh Stuffed Pita, Carl's Jr. Bacon Swiss Crispy Chicken Sandwich, Taco Bell Beef Burrito Supreme, Nabisco Reduced-Fat Oreo Cookies, Entenmann's Light Low-Fat Gourmet Cinnamon Rolls, Little Debbie Oatmeal Lights, Otis Spunkmeyer Chocolate Chip Muffins, Keebler Reduced-Fat Pecan Sandies, Planter's Fat-Free Fiddle Faddle and many more.

Other books you may like: Top Secret Restaurant Recipes 2Top Secret Restaurant Recipes 3.

Low-Fat Clones
Applebee's Low-Fat Asian Chicken Salad
Applebee's Low-Fat & Fabulous Brownie Sundae
California Pizza Kitchen Tuscan Hummus
California Pizza Kitchen Dakota Smashed Pea & Barley Soup
California Pizza Kitchen Grilled Eggplant Cheeseless Pizza
California Pizza Kitchen Vegetarian Pizza
Chevy's Fresh Salsa
Entenmann's Light Low-Fat Cinnamon Raisin Sweet Rolls
Entenmann's Light Low-Fat Gourmet Cinnamon Rolls
Gardenburger Classic Greek Veggie Patty
Gardenburger Fire-Roasted Vegetable Veggie Patty
Gardenburger Savory Mushroom Veggie Patty
Girl Scout Cookies Reduced-Fat Lemon Pastry Crèmes
Healthy Choice Traditional Pasta Sauce
Healthy Choice Chunky Tomato, Mushroom & Garlic Pasta Sauce
Keebler Reduced-Fat Pecan Sandies
Koo Koo Roo Original Skinless Flame-Broiled Chicken
Koo Koo Roo Santa Fe Pasta
Little Debbie Oatmeal Lights
Nabisco Honey Maid Grahams--Honey (Original)
Nabisco Honey Maid Grahams--Cinnamon
Nabisco Honey Maid Grahams--Chocolate
Nabisco Old Fashion Ginger Snaps
Nabisco Reduced-Fat Oreo Cookies
Nabisco SnackWell's Apple Raisin Snack Bars
Nabisco SnackWell's Banana Snack Bars
Planters Fat-Free Fiddle Faddle
Rainforest Cafe Reggae Beat Seasoning
Rainforest Cafe The Plant Sandwich
Rainforest Cafe Rumble In The Jungle Turkey Pita
Seven Seas Free Red Wine Vinegar Fat-Free Dressing
Seven Seas Free Viva Italian Fat-Free Dressing
Tootsie Roll Midgees

Low-Fat Conversions
Applebee's Tequila Lime Chicken (RF)
Bennigan's Buffalo Chicken Sandwich (RF)
California Pizza Kitchen Sedona White Corn Tortilla Soup (LF)
Carl's Jr. Ranch Crispy Chicken Sandwich (RF)
Carl's Jr. Charbroiled Chicken Club Sandwich (RF)
Carl's Jr. Charbroiled Santa Fe Chicken Sandwich (RF)
Carl's Jr. Bacon Swiss Crispy Chicken Sandwich (RF)
Chevys Garlic Mashed Potatoes (FF)
Chevys Texas BBQ Wrap (RF)
Chevys Mesquite-Grilled BBQ Chicken Quesadilla (RF)
Chili's Boneless Buffalo Wings (RF)
Chili's Fajita Salad (RF)
Chili's Margarita Grilled Tuna (RF)
Chili's Southwestern Eggrolls (RF)
KFC Macaroni & Cheese (RF)
KFC Potato Salad (FF)
McDonald's Arch Deluxe (RF)
McDonald's Egg McMuffin (LF)
Olive Garden Chicken Parmigiana Sandwich (RF)
Olive Garden Fettuccine Alfredo (RF)
Olive Garden Zuppa Toscana (RF)
Otis Spunkmeyer Chocolate Chip Muffins (RF)
Otis Spunkmeyer Wild Blueberry Muffins (RF)
Outback Steakhouse Walkabout Soup (RF)
Outback Steakhouse Caesar Salad Dressing (LF)
Outback Steakhouse Alice Springs Chicken (RF)
Panda Express Orange-Flavored Chicken (RF)
Rainforest Cafe Tropical Chicken Quartet (RF)
Screaming Yellow Zonkers (LF)
Sonic Drive-In No.1 Burger (RF)
Sonic Drive-In Hickory Burger (RF)
Sonic Drive-In Jalapeno Burger (RF)
Taco Bell Beef Burrito Supreme (RF)
Taco Bell Chicken Soft Taco (LF)
T.G.I. Friday's BBQ Chicken Wings (RF)
T.G.I. Friday's Dijon Chicken Pasta (RF)
T.G.I. Friday's Potato Skins (RF)
Wendy's Chicken Caesar Fresh Stuffed Pita (RF)
Wendy's Classic Greek Fresh Stuffed Pita (LF)
Wendy's Junior Bacon Cheeseburger (RF)
Wendy's Spicy Chicken Fillet Sandwich (RF)

Read more

Menu Description: "Fire-roasted chicken breast topped with mushrooms, prosciutto and our Florio Marsala wine sauce."

To create my Carrabba's Chicken Marsala recipe, I ordered the dish to go, with the sauce on the side, so that I could separately analyze each component. After some trial and error in the underground lab, I found that re-creating the secret sauce from scratch is easy enough with a couple small cans of sliced mushrooms, a bit of prosciutto, some Marsala wine, shallots, garlic and a few other good things.

Cooking the chicken requires a very hot grill. The restaurant chain grills chicken breasts over a blazing real wood fire, so crank your grill up high enough to get the flames nipping at your cluckers (not a euphemism). If your grill has a lid, keep it open, so you can watch for nasty flare-ups.

Click here for more of your favorite dishes from Carrabba's.

Source: Top Secret Restaurant Recipes 2 by Todd Wilbur.

Read more

El Pollo Loco, or "The Crazy Chicken," has been growing like mad since it crossed over the border into the United States from Mexico. Francisco Ochoa unknowingly started a food phenomenon internacional in 1975 when he took a family recipe for chicken marinade and opened a small roadside restaurante in Gusave, Mexico. He soon had 90 stores in 20 cities throughout Mexico. The first El Pollo Loco in the United States opened in Los Angeles in December 1980 and was an immediate success. It was only three years later that Ochoa got the attention of bigwigs at Dennys, Inc., who offered him $11.3 million for his U.S. operations. Ochoa took the deal, and El Pollo Loco grew from 17 to more than 200 outlets over the following decade.

Pair my El Pollo Loco Flame Broiled Chicken copycat recipe below with my recipes for their avocado salsa, pinto beans, Spanish rice, and bbq black beans.

Source: More Top Secret Recipes by Todd Wilbur.

Read more

The easy-melting, individually-wrapped Kraft Cheddar Singles are the perfect secret ingredient to copy this cheesy broccoli cheddar soup served at this top soup stop. In my Panera Bread Broccoli Cheddar Soup recipe, fresh broccoli is first steamed, then diced into little bits before you combine it with chicken broth, half-and-half, shredded carrot, and onion. Now you're just 30 minutes away from soup spoon go-time.

Click here for more of my copycat Panera Bread recipes.

Source: Top Secret Recipes Unlocked by Todd Wilbur.

Read more

This 220-unit downscaled version of P.F. Chang's China Bistro targets the lunch crowd with a smaller menu that features bento boxes, bowls, and small plates. Obviously, a clone is needed for this one, stat.

The name "Wei Better Orange Chicken" is a competitive callout to Panda Express's signature orange chicken, which is made with pre-breaded and frozen chicken. Pei Wei claims its orange chicken is prepared each day from scratch with chicken that is never frozen, so we'll craft our clone the same way. But rather than assemble the dish in a wok over a high-flame fast stove like they do at the restaurant, we'll prepare the sauce and chicken separately, then toss them with fresh orange wedges just before serving.

By the way, Pei Wei Better Orange Chicken goes very well with white or brown rice, so don't forget to make some.

This recipe was our #4 most popular in 2020. Check out the other four most unlocked recipes for the year: Rao's Homemade Marinara Sauce (#1), Olive Garden Lasagna Classico (#2), King's Hawaiian Original Hawaiian Sweet Rolls (#3), Chipotle Mexican Grill Carnitas (#5).

Read more

I got lucky on the day I picked up a box of chow mein from this huge Chinese chain because they had just run out. This meant that I could watch from the sidelines as they whipped up a fresh batch in a giant wok over a high flame in the completely visible kitchen, and I was able to take plenty of mental notes. The whole dish took just a few minutes for the enthusiastic chef to prepare, and before I knew it I was out the door with a huge box of hot chow mein ready for hacking.

Just like the real Panda Express Chow Mein, the beauty in this re-creation is its simplicity. There are only seven ingredients, and the prep work is low-impact. I used dry chow mein noodles (also called Chinese stir fry noodles) which are easy to find and cheap, and dark soy sauce to get that great caramel color. And if you don't have a wok for this, a large skillet with sloped sides for tossing will work just fine.

This recipe was our #1 most popular in 2021. Check out the other four most unlocked recipes for the year: Qdoba 3-Cheese Queso (#2), Panda Express Fried Rice (#3), Outback Baked Potato Soup (#4), Chipotle Carne Asada (#5).

You might also like my #1 recipe of 2020, Rao's Homemade Marinara Sauce.

Read more

The Southern-themed chain famous for its gift shops filled with made-in-America products and delicious homestyle food is also known to have a particularly good meatloaf. This dish ranks high in popularity, right up there with the Chicken 'n Dumplins and the Hash Brown Casserole, so a good Cracker Barrel Meatloaf recipe is long overdue.

Making meatloaf is easy. What's hard is making it taste like the meatloaf at Cracker Barrel which is tender and juicy, and flavored with onion, green pepper, and tomato. I sought to turn out a moist and tender loaf of meat, and one that's not dry and tough, but my first attempts were much too dense. I wasn't happy about that, but my dog was thrilled.

After playing around with the eggs-to-breadcrumbs-to-milk ratios and being careful to use gentle hands when combining everything and pressing it into the loaf pan, the final batch was a winner and I get to pass it along to you.

It's best to use a meatloaf pan here which has an insert that lets the fat drip to the bottom, away from the meat. A regular loaf pan will still work, but you'll want to pour off the fat in the pan before slicing.

Satisfy your Cracker Barrel cravings with more of my copycat recipes here.

Read more

Before he became America's sausage king, Jimmy Dean was known for crooning the country hit "Big Bad John." That song came out in 1962 and sold more than 8 million copies. His singing success launched a television career on ABC with The Jimmy Dean Show, where Roy Clark, Patsy Cline, and Roger Miller got their big breaks. The TV exposure led to acting roles for Jimmy, as a regular on Daniel Boone, and in feature films, including his debut in the James Bond flick Diamonds are Forever. Realizing that steady income from an acting and singing career can be undependable, Jimmy invested his show-biz money in a hog farm. In 1968 the Jimmy Dean Meat Company developed the special recipe for sausage that has now become a household name. Today the company is part of the Sara Lee Corporation, and Jimmy retired as company spokesman in 2004.

My Jimmy Dean breakfast sausage copycat recipe re-creates three varieties of the famous roll sausage that you form into patties and cook in a skillet. Use ground pork found at the supermarket—make it lean pork if you like—or grind some up yourself if you have a meat grinder.

Check out more of my famous breakfast food clone recipes here.

Source: Top Secret Recipes Unlocked by Todd Wilbur.

Read more

Order an entree from America's largest seafood restaurant chain and you'll get a basket of some of the planet's tastiest garlic-cheese biscuits served up on the side. For many years, the Cheddar Bay Biscuits recipe has been the most-searched-for clone recipe on the Internet, according to Red Lobster. As a result, several versions are floating around, including one that was at one time printed right on the box of Bisquick baking mix.

The problem with making biscuits using Bisquick is that if you follow the directions from the box you don't end up with a very fluffy or flakey finished product, since most of the fat in the recipe comes from the shortening that's included in the mix. On its own, room temperature shortening does a poor job creating the light, airy texture you want from good biscuits, and it contributes little in the way of flavor. So, we'll invite some cold butter along on the trip -- with grated Cheddar cheese and a little garlic powder. Now you'll be well on your way to delicious Cheddar Bay. Wherever that is.

Complete the Red Lobster experience and make favorite entrées and side dishes here.

Source: "Top Secret Restaurant Recipes 2" by Todd Wilbur.

Read more

Menu Description: "Creamy potato soup topped with melted cheese, bacon, and green onions."

It's not called baked potato soup because the potatoes in it are baked. It's called baked potato soup because it's topped with shredded cheese, bacon, and green onion, and it tastes like a loaded baked potato. Other hacky hacks for this recipe miss that point and add over an hour to the preparation process by preheating an oven and baking the potatoes, all while hungry stomachs are growling on the sidelines. My version skips that part by adding the raw potatoes directly into the pot with the other ingredients, where they cook in 20 minutes, and the soup is ready to eat in less time than other recipes take just to get the potatoes done.

Also, other clones add way too much flour to thicken the soup—¾ cup! Sure, flour is good at thickening, but it doesn't add any flavor, so I found a better way. For my Outback Baked Potato Soup copycat recipe, I ended up using just a little flour to make the roux, then later thickening the soup mostly with dehydrated potato flakes, which are used to make quick mashed potatoes. The flakes not only do a great job of thickening the soup, but they also add more delicious potato flavor to the pot, just like the original soup.

Top your finished soup with shredded cheese, crumbled bacon, and green onion, and every spoonful will taste like a fully decked-out baked potato.

This recipe was our #4 most popular in 2021. Check out the other four most unlocked recipes for the year: Panda Express Chow Mein (#1), Qdoba 3-Cheese Queso (#2), Panda Express Fried Rice (#3), Chipotle Carne Asada (#5).

Read more

Just 15 minutes after the very first Cheesecake Factory opened in Beverly Hills back in 1978, the lines began forming. These guys know how to make a dang good cheesecake!

You'll love this yummy twist on Key lime pie. Since Key limes and Key lime juice can be hard to find, I decided to use standard lime juice in my Cheesecake Factory Key Lime Cheesecake copycat recipe, which can be purchased bottled or squeezed fresh. If you can find Key lime juice, bear in mind that Key limes are more tart, so you'll need only half as much juice. You'll also need a springform pan. If you don't have one, you can use two 9-inch pie pans and make two smaller cheesecakes.

Try more of my Cheesecake Factory hacks here.

Source: Top Secret Restaurant Recipes by Todd Wilbur.

Read more

To get their Extra Crispy Chicken so crispy, KFC breads the chicken two times. This double breading gives the chicken its ultra craggy exterior and extra crunch, which is a different texture than the less crispy original recipe fried chicken that's breaded just once and pressure fried.

As with my KFC Original Fried Chicken recipe, we must first brine the chicken to give it flavor and moisture all the way through, like the real thing, then the chicken is double breaded and deep-fried until golden brown. KFC uses small chickens which cook faster, but small chickens can be hard to find. If your chicken parts are on the large side, they may not cook all the way through in the 12 to 15 minutes of frying I'm specifying here. To be sure your chicken is cooked, start frying with the thickest pieces, like the breasts, then park them in a 300-degree oven while you finish with the smaller pieces. This will keep the chicken warm and crispy, and more importantly, ensure that they are cooked perfectly all the way through.

On my CMT show Top Secret Recipe I chatted with Winston Shelton, a long-time friend of KFC founder Harland Sanders. Winston saw the Colonel's handwritten secret recipe for KFC Original Recipe chicken, and he told me one of the secret ingredients is Tellicherry black pepper. It's a more expensive, better-tasting black pepper that comes from the Malabar coast in India, and you should use it here if you can find it. Winston pulled me aside and whispered this secret to me when he thought we were off-camera, but our microphones and very alert cameramen caught the whole thing, and we aired it.

I first published my KFC Extra Crispy Fried Chicken recipe in Even More Top Secret Recipes, but recently applied some newly acquired secrets and tips to make this much-improved recipe of one of the most familiar fried chicken recipes in the world.

My improved KFC Extra Crispy Fried Chicken copycat recipe below was our #2 most popular in 2019. Check out the other four most unlocked recipes of the year: Texas Roadhouse Rolls (#1), Olive Garden Braised Beef Bolognese (#3), Pizzeria Uno Chicago Deep Dish Pizza (#4), Bush's Country Style Baked Beans (#5).

Read more

Overstock Sale!

If you like Chick-fil-A's sandwich sauce, you'll love this.

Created by food hacker Todd Wilbur, host of Top Secret Recipe and best-selling author of 12 Top Secret Recipes cookbooks, this copycat Chick-fil-A sauce is inspired by the sweet and smoky secret chicken sandwich sauce that is the top pick at the restaurant.

Use it on chicken, ham and turkey sandwiches, or as a delicious dipping sauce for chicken fingers and nuggets.

Buy up to 4 bottles to ship for one low price!

11-ounce bottle. Money-back guarantee.

You might also like our Top Secret Burger Special Sauce (like McDonald's Big Mac Sauce) and our Top Secret Chicken Tender Sauce (like Zaxby's and that other famous chicken finger sauce).

Ingredients: Soybean oil, sugar, water, vinegars, eggs, tomato paste, mustard seed, salt, corn syrup, lemon juice, natural smoke flavor, preservatives, garlic, Xanthan gum, onions, red chili peppers, citric acid, turmeric, paprika, annatto, spices.

Nutritional Facts: Serving Size 1 tbsp. Servings per Container 21. Amount per Serving: Calories 90, Total Fat 8 g, Cholesterol 10mg, Sodium 75mg, Total Carbohydrate 3g, Dietary Fiber 0g, Sugars 3g, Protein 0g.

Read more

Menu Description: "Jumbo butterflied shrimp hand-dipped in batter flavored with Captain Morgan Parrot Bay Rum & coconut flakes. Served with piña colada dipping sauce."

Fans of this dish say the best part is the piña colada dipping sauce. And it's true. That sauce is so good you could eat it with a spoon. But the coconut shrimp is pretty awesome too, just on its own. Red Lobster's secret formula includes Captain Morgan's Parrot Bay rum, which sweetens the batter and adds a great coconut flavor (plus you can whip up a nice cocktail with it while you're cooking). Panko breadcrumbs—which give a nice crunch to the shrimp—can be found in the aisle of your market where all the Asian foods are parked. My Red Lobster Parrot Bay coconut shrimp copycat recipe makes two times the size of a serving you get at the Lobster, so there should be enough for everyone. The real thing comes with salsa on the side in addition to the piña colada sauce, but you may not even want to include it.

Find more of your favorite Red Lobster copycat recipes here.

Source: Top Secret Restaurant Recipes 2 by Todd Wilbur.

Read more

Exclusive signed copy. Here's the skinny on the bestselling recipes and best-kept secrets from across the country...with less fat! Twinkies...Cinnabon Cinnamon Rolls...Wendy's Frosty...Big Macs. Sound delicious? Of course. Sound fattening? You'd better believe it! Until now.

Todd Wilbur, author of the bestselling books, Top Secret Recipes, More Top Secret Recipes, and Top Secret Restaurant Recipes, has skimmed the fat off your favorite brand-name foods and recipes without skimping on the taste.

In Top Secret Recipes Lite, he reveals how you can make your own scrumptious versions of: Olive Garden Tiramisu, Gardenburger Veggie Patty, Entenmann's Fat-Free Oatmeal Cookies, Taco Bell Beef Soft Taco, KFC Tender Roast Chicken, and Red Lobster Cheddar Bay Biscuits. Plus, how to make Kraft Thousand Island Dressing, TGI Friday's Fat Free Cheesecake, KFC Cole Slaw, and Swiss Miss Chocolate Fudge Pudding—all with no fat!

Books you may also like: Low-Fat Top Secret Recipes and Top Secret Restaurant Recipes 2

Lite Clones
Applebee's Low-Fat Blackened Chicken Salad
Applebee's Low-Fat Veggie Quesadilla
Arby's Light Menu Roast Chicken Deluxe
Arby's Light Menu Roast Turkey Deluxe
Chili's Guiltless Grill Chicken Salad
Chili's Guiltless Grill Guiltless Chicken Sandwich
Chili's Guiltless Grill Guiltless Pasta Primavera
Einstein Bros. Plain Bagel
Einstein Bros. Cinnamon Sugar Bagel
Einstein Bros. Jalapeno Bagel
Einstein Bros. Chopped Garlic Bagel
Einstein Bros. Chopped Onion Bagel
Einstein Bros. Everything Bagel
Entenmann's Light Fat-Free Cheese-Filled Crumb Coffee Cake
Entenmann's Light Fat -Free Golden Loaf
Entenmann's Light Fat=-Free Oatmeal Raisin Cookies
El Pollo Loco Salsa
Gardenburger Original Veggie Patty
Hostess Lights Low-Fat Cupcakes
Hostess Lights Low-Fat Twinkies
Kellogg's Low-Fat Frosted Brown Sugar Cinnamon Pop-Tarts
Kraft Free Catalina Dressing
Kraft Free Classic Caesar Dressing
Kraft Free Thousand Island Dressing
Kraft Light Deluxe Macaroni & Cheese Dinner
Nabisco Reduced-Fat Cheese Nips
Nabisco SnackWell's Chocolate Chip Cookies
Nabisco SnackWell's Fudge Brownie Bars
Nabisco SnackWell's Golden Snack Bars
Red Lobster Lemon -Pepper Grilled Mahi-Mahi
Red Lobster Nantucket Baked Cod
Swiss Miss Fat-Free Chocolate Fudge Pudding
Swiss Miss Fat-Free Tapioca Pudding
T.G.I. Friday's Fat-Free Cheesecake
T.G.I. Friday's Jack Daniel's Grill Salmon
Weight Watchers Smart Ones Chocolate Éclair

Lite Conversions
Applebee's Baja Potato Boats (RF)
Boston Market Butternut Squash (FF)
Boston Market Cinnamon Apples(FF)
Boston Market Creamed Spinach (RF)
Burger King BK Broiler (RF)
Burger King Big King (RF)
Burger King Whopper (RF)
Chi-Chi's Mexican "Fried" Ice Cream (RF)
Chi-Chi's Sweet Corn Cake (RF)
Cinnabon Cinnamon Rolls (RF)
Denny's Moons Over My Hammy (LF)
Denny's The Super Bird (RF)
Dolly Madison Buttercrumb Cinnamon (LF)
Dolly Madison Carrot Cake (RF)
Einstein Bros. Roasted Garlic Cream Cheese Shmear (FF)
Einstein Bros. Strawberry Cream Cheese Shmear (FF)
Einstein Bros. Jalapeno Salsa Cream Cheese Shmear (FF)
Einstein Bros. Maple Walnut Raisin Cream Cheese Shmear (FF)
El Pollo Loco Flame-Broiled Chicken (RF)
El Pollo Loco Pinto Beans (FF)
El Pollo Loco Spanish Rice (FF)
El Pollo Loco B.R.C. Burrito (LF)
El Pollo Loco Classic Chicken Burrito (LF)
El Pollo Loco Spicy Hot Chicken Burrito (LF)
El Pollo Loco Loco Grande Burrito (LF)
Hooters Buffalo Chicken Wings (RF)
Hooters Buffalo Shrimp (LF)
Kellogg's Rice Krispies Treats (FF)
KFC Buttermilk Biscuits (LF)
KFC Cole Slaw (FF)
KFC Mashed Potatoes & Gravy (LF)
KFC Tender Roast Chicken (RF)
McDonald's Big Mac (RF)
McDonald's Breakfast Burrito (LF)
Olive Garden Chicken Caesar Sandwich (RF)
Olive Garden Italian Salad Dressing (FF)
Olive Garden Pasta e Fagioli (RF)
Olive Garden Tiramisu (LF)
Otis Spunkmeyer Apple Cinnamon Muffins (RF)
Otis Spunkmeyer Banana Nut Muffins (RF)
Red Lobster Cheddar Bay Biscuits (LF)
Red Lobster Tartar Sauce (FF)
Shoney's Hot Fudge Cake (RF)
Shoney's Country Fried Steak (RF)
Taco Bell Beef Soft Taco (LF)
Taco Bell Grilled Chicken Burrito (RF)
Taco Bell Mexican Pizza (RF)
Wendy's Single with Cheese (RF)
Wendy's Frosty (LF)
White Castle Cheeseburgers (RF)

Read more

Menu Description: "Creamy marsala wine sauce with mushrooms over grilled chicken breasts, stuffed with Italian cheeses and sundried tomatoes. Served with garlic mashed potatoes."

My Olive Garden Stuffed Chicken Marsala recipe includes a marsala sauce that even marsala sauce haters will like. My wife is one of those haters, but when she tried this sauce, her eyes lit up, and she begged for more. That's great, now I won't have to eat alone.

Not only is Olive Garden's delicious marsala sauce hacked here (and it's easy to make), you'll also get the copycat recipe for the chain's awesome Italian cheese stuffing that goes between the two pan-cooked chicken fillets. Build it, sauce it, serve it. The presentation is awesome, and the flavor will soothe your soul.

Try this dish paired with my recent clone of Olive Garden's Garlic Mashed Potatoes for the complete Olive Garden Stuffed Chicken Marsala experience.

Read more

It took chefs several years to develop what would eventually become KFC's most clucked about new product launch in the chain's 57-year history. With between 70 to 180 calories and four to nine grams of fat, depending on the piece, the new un-fried chicken is being called "KFC's second secret recipe," and "a defining moment in our brand's storied history" in a company press release. The secret recipe for the new grilled chicken is now stored on an encrypted computer flash drive next to the Colonel's handwritten original fried chicken recipe in an electronic safe at KFC company headquarters. Oprah Winfrey featured the chicken on her talk show and gave away so many coupons for free grilled chicken meals that some customers waited in lines for over an hour and half, and several stores ran out and had to offer rain checks. Company spokesperson Laurie Schalow told the Associated Press that KFC has never seen such a huge response to any promotion. "It's unprecedented in our more than 50 years," she said. "It beats anything we've ever done."

When I heard about all the commotion over this new secret recipe, I immediately locked myself up in the underground lab with a 12-piece bucket of the new grilled chicken, plus a sample I obtained of the proprietary seasoning blend, and got right to work. After days of nibbling through what amounts to a small flock of hens, I'm happy to bring you this amazing cloned version of this fast food phenomenon so that you can now reproduce it in your own kitchen.

Find the smallest chicken you can for my KFC grilled chicken copycat recipe, since KFC uses young hens. Or better yet save some dough by finding a small whole chicken and cut it up yourself. The secret preparation process requires that you marinate (brine) your chicken for a couple of hours in a salt and MSG solution. This will make the chicken moist all the way through and give it great flavor. After the chicken has brined, it's brushed with liquid smoke-flavored oil that will not only make the seasoning stick to the chicken, but will also ensure that the chicken doesn't stick to the pan. The liquid smoke in the oil gives the chicken a smoky flavor as if it had been cooked on an open flame barbecue grill.

The grilled chicken at KFC is probably cooked on ribbed metal plates in specially designed convection ovens to get those grill marks. I duplicated that process using an oven-safe grill pan, searing the chicken first on the stove top to add the grill marks, then cooking the chicken through in the oven. If you don't have a grill pan or a grill plate, you can just sear the chicken in any large oven safe sauté pan. If you have a convection function on your oven, you should definitely use it, but the recipe will still work in a standard oven with the temperature set just a little bit higher. After baking the chicken for 20 minutes on each side, you're ready to dive into your own 8-piece bucket of delicious indoor grilled chicken that's as tasty as the fried stuff, but without all the fat.

Check out the video demonstration of this recipe.

You might also like my copycat recipes for KFC's signature sauces and sides. Find all of my KFC copycat recipes here.

Source: "Top Secret Recipes Step-by-Step" by Todd Wilbur

Read more

There are many acceptable ways to formulate good queso, but to make this specific queso the ingredients must be correct, and most copycat recipes seem to get it wrong. A few recipes get one of the peppers and two of the cheeses right, but pretty much every recipe out there is a bit of a mess that I will now save you from.

Quesos can be made with a variety of cheeses that include queso fresco, asadero, and Muenster, but this particular queso includes a cheese you probably didn't expect: Swiss. That cheese is slow to melt, so we'll shred it first, along with the Jack. And you won't need to gum up the queso with flour or cornstarch by making a roux because the white American cheese in the mix contains sodium citrate or sodium phosphate—additives that help the cheese melt smoothly and stay that way.

Authors of recipes that call for tomatoes in this dish haven't looked closely. Those are red bell peppers and they are roasted, peeled, and seeded along with the poblano and jalapeños before they are diced and added to the cheese sauce. The sauce cooks on low heat, never bubbling, so that it stays smooth and creamy.

When done, your queso might seem thin in the pan, but it will thicken as it cools to a perfect consistency for dipping tortilla chips, or as a topping for tacos and burrito bowls.

My Qdoba 3-cheese queso recipe was our #2 most popular in 2021. Check out the other four most unlocked recipes for the year: Panda Express Chow Mein (#1), Panda Express Fried Rice (#3), Outback Baked Potato Soup (#4), Chipotle Carne Asada (#5).

Read more

Menu Description: "Nearly world-famous. Often imitated, hardly ever duplicated."

"Hooters is to chicken wings what McDonald's is to hamburgers," claims promotional material from the company. True, the six fun-loving Midwestern businessmen who started Hooters in Clearwater, Florida, on April Fool's Day in 1983 chose a classic recipe for chicken wings as their signature item. But while some might say it's the buffalo wings that are their favorite feature of the restaurant, others say it's the restaurant chain's trademark Hooters girls—waitresses casually attired in bright orange short-shorts and skin tight T-shirts.

Today there are over 375 Hooters across the United States serving more than 200 tons of chicken wings every week. The original dish can be ordered in 10-, 20-, or 50-piece servings; or if you want to splurge, there's the "Gourmet Chicken Wing Dinner" featuring 20 wings and a bottle of Dom Perignon champagne, for only $125. To further enhance the Hooters experience when you serve these messy wings, throw a whole roll of paper towels on the table, rather than napkins, as they do in the restaurants.

Source: Top Secret Restaurant Recipes by Todd Wilbur.

Read more