←

KFC (Kentucky Fried Chicken) Coleslaw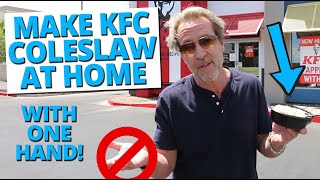 KFC (Kentucky Fried Chicken) Coleslaw
If you've ever seen a clone recipe for KFC Coleslaw it probably looks like this. This replica Colonel Sanders coleslaw recipe has become one of the all-time most shared recipes on the intraweb. Here's the original secret formula I created from scratch in 1993 for my first book, Top Secret Recipes, to clone the world's best coleslaw.
I've cloned a ton of stuff from KFC. See if I hacked your favorites here.
Source: Top Secret Recipes by Todd Wilbur.
Get This
_main
8 cups finely chopped cabbage (about 1 head)
1/4 cup shredded carrot (1 medium carrot)
2 tablespoons minced onion
1/2 cup mayonnaise (I used Best Foods / Hellmann's)
1/3 cup granulated sugar
1/4 cup milk
1/4 cup buttermilk
2 1/2 tablespoons lemon juice
1 1/2 tablespoons white vinegar
1/2 teaspoon salt
1/8 teaspoon pepper
1. Be sure cabbage and carrots are chopped up into very fine pieces (about the size of rice).
2. Combine the mayonnaise, sugar, milk, buttermilk, lemon juice, vinegar, salt, and pepper in a large bowl and beat until smooth.
3. Add the cabbage, carrots, and onion, and mix well.
4. Cover and refrigerate for at least 2 hours, stir, then serve.
Serves 10 to 12.
Spot on! I like cole slaw in general but most of my family hates it...except the KFC slaw. I admit, I prefer it to most cole slaw as well. This is as close as you can get without just going and ordering it from KFC.
This is a WINNER. Directions say to wait two hours. I could not wait and tasted it right a way. This definitely tastes like the KFC coleslaw in the Detroit metro area I bought two days ago at $4.66 for a pint. This is the best recipe ever for KFC coleslaw. Followed directions to the letter.