←

Domino's Chocolate Lava Crunch Cakes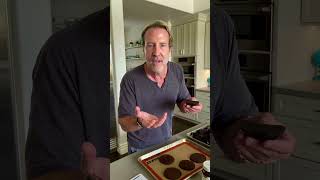 Domino's Chocolate Lava Crunch Cakes

A traditional "molten" cake or "lava" cake is baked at a high temperature for a short time so that the outside of the cake is fully cooked, but the batter at the center stays unset and gooey. Domino's lava cakes are different with pure fudge topping hidden in the middle rather than cake batter. The little dessert is delicious, with a crunchy exterior and two forms of chocolate in one bite, but it presents some challenges, such as how to fully enclose soft fudge in the center of a small cake without holes, and how to keep the fudge from disappearing into the cake batter as it bakes.
Since there are no holes or seams detected on the cakes, the filling needs to be loaded into the cakes before baking. I thought about freezing the fudge in disk shapes and then concealing those into the middle of a muffin cup of cake batter, but the fudge doesn't freeze solid in a home freezer. It just gets really cold and really sticky, and it's much too messy to work with.
Going back to the drawing board, I found the clue I needed on Domino's website. The list of ingredients for the lava cakes includes "cake crumbs" and "cookie crumbs" along with butter, eggs, sugar, flour, vanilla, and cocoa. This suggests that crumbs of pre-baked cake and cookies could be combined with the other ingredients to make firmer cake "dough" rather than runny cake batter. The soft fudge could then be spooned onto the bottom of the uncooked mini cakes, topped with more dough, and baked.
After baking the little cakes with this new technique there is no detectable seam, and the fudge inside gets warm and gooey and oozes out when you eat it, just like the real thing. Serve these up with a scoop of vanilla ice cream on the side and watch the fun when everyone takes a bite.
My Domino's chocolate lava crunch cake recipe makes 12 cakes, and I'm adding a bunch of step photos so yours will come out perfect. You can chill any leftovers for serving later with the reheating instructions I'm including at the end.
Get This
_main
1 (15.25-ounce) box chocolate fudge cake mix (3 cups)
2/3 cups water
...
We made these last night and they were good. I wish they were more crispy on the outside so we are going to try the bake and then cool and then bake again method. Very close to the original cakes from the pizza place. We will make these again!
I'm Todd Wilbur, Chronic Food Hacker
For over 30 years I've been deconstructing America's most iconic brand-name foods to make the best original copycat recipes for you to use at home. Welcome to my lab.
What's Hot