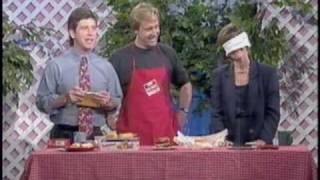 Top Secret Recipes
Old price
$14.00,
you save
$1.40
Exclusive signed copy. The book that started the copycat food craze! This irresistible collection of cloned recipes is the product of years of obsessive research by self-confessed convenience-food addict Todd Wilbur.

Big food manufacturers guard their recipes like the gold in Fort Knox, but Wilbur's dogged pursuit of taste-alike versions of his—and our—all-time favorites has paid off in this unique cookbook of scrumptious treats.

Whether you're a kid or just a kid at heart, you'll have a great time making the incredible clones of a McDonald's Big Mac, a Burger King Whopper, a Tastykake Butterscotch Krimpet, Yoo-Hoo Chocolate Drink, Reese's Peanut Butter Cup, Hostess Twinkie, Mrs. Fields Chocolate Chip Cookie, and many other famous American foods. Helpful illustrations let you recreate them to perfection. And both taste and guilty pleasures are just like the real thing.
Other books you may like: More Top Secret Recipes; Even More Top Secret Recipes.
Contents
Aunt Jemima Maple Syrup
Ben & Jerry's Heath Bar Crunch Ice Cream
Borden Cracker Jack
Brown & Haley Almond Roca
Burger King Whopper
Carl's Jr. Famous Star
Chick-fil-A Chicken Sandwich
Dairy Queen Blizzard
Hardee's French Fries
Hardee's 1/4-pound Hamburger
Hostess Twinkie
IHOP Pancakes
In-N-Out Double Double
Jack in the Box Jumbo Jack
Jack in the Box Taco
Kahlua Coffee Liqueur
Keebler Soft Batch Chocolate Chip Cookies
KFC Buttermilk Biscuits
KFC Cole Slaw
KFC Original Recipe Fried Chicken
Long John Silver's Batter-Dipped Fish
M&M/Mars Caramel Twix Bars
M&M/Mars Snickers Bar
McDonald's Big Mac
McDonald's Egg McMuffin
McDonald's McD.L.T.
Mrs. Fields Chocolate Chip Cookies
Mrs. Fields Peanut Butter Dream Bars
Orange Julius
Peter Paul Mounds and Almond Joy
Pogen's Gingersnaps
Reese's Peanut Butter Cups
Sara Lee Original Cream Cheesecake
See's Butterscotch Lollipop
Taco Bell Enchirito
TastyKake Butterscotch Krimpets
TastyKake Peanut Butter Kandy Kakes
Twin Dragon Almond Cookies
Wendy's Chili
Wendy's Frosty
Yoo-Hoo Chocolate Drink
I love your books and have been using them for at least 10-15 yrs. I think longer. I always recommend your books to all of my friends. With the economy the way it has been, it is hard to eat out. We started making our own food and love them. The recipes are right on.
This is a message for Todd. I just wanted to say "Thank you" for creating your cookbooks. I found them early on when i was living on my own (such a blessing) and found them so easy to follow. I initially bought your book for the Yoo Hoo and wound up buying more of your books just for the recipes, not just because they were clones. Keep up the good work!