←

Starbucks Cranberry Bliss Bar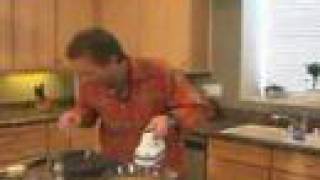 Starbucks Cranberry Bliss Bar

Each holiday season, Starbucks brings out one of its most beloved desserts: a soft triangle of white chocolate and cranberry cake covered with delicious creamy lemon frosting and dried cranberries. But when the holidays are over, the Bliss Bars go back into hiding until next season. That's when we bust out our copycat Starbucks Cranberry Bliss Bar recipe. 
The cake is flavored with bits of crystallized ginger that you can find in most markets near the herbs and spices. Be sure to finely mince the chunks of ginger before adding them, since ginger has a strong flavor, and you don't want anyone biting into a whole chunk. For the white chocolate, one 4-ounce bar of Ghirardelli white chocolate will give you the perfect amount of chunks after you chop it up. If you can't find that brand, any brand of white chocolate will do, or you can use 4 ounces of white chocolate chips. My cranberry bliss bar recipe below will make a total of 16 cake bars, at a fraction of the cost of the original.

For a demonstration of this classic clone recipe, check out this video.
Check out my other copycat recipes for more Starbucks favorites here.

Source: Top Secret Recipes Unlocked by Todd Wilbur.
Get This
_main
3/4 cup (1 1/2 sticks) butter, softened
1 1/4 cups packed light brown sugar
...
I made these for the first time tonight and found them to be better than the original item I had a month ago... I'll be making these more often than I should...
Made them again this year, best thing ever. My family ask for them every year.