←

Red Lobster Cheddar Bay Biscuits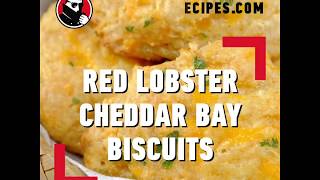 Red Lobster Cheddar Bay Biscuits

Order an entree from America's largest seafood restaurant chain and you'll get a basket of some of the planet's tastiest garlic-cheese biscuits served up on the side. For many years, the Cheddar Bay Biscuits recipe has been the most-searched-for clone recipe on the Internet, according to Red Lobster. As a result, several versions are floating around, including one that was at one time printed right on the box of Bisquick baking mix.

The problem with making biscuits using Bisquick is that if you follow the directions from the box you don't end up with a very fluffy or flakey finished product, since most of the fat in the recipe comes from the shortening that's included in the mix. On its own, room temperature shortening does a poor job creating the light, airy texture you want from good biscuits, and it contributes little in the way of flavor. So, we'll invite some cold butter along on the trip -- with grated Cheddar cheese and a little garlic powder. Now you'll be well on your way to delicious Cheddar Bay. Wherever that is.
Complete the Red Lobster experience and make favorite entrées and side dishes here.
Source: "Top Secret Restaurant Recipes 2" by Todd Wilbur.
Get This
_main
2 1/2 cups Bisquick baking mix
4 tablespoons cold butter
...
I've tried other "copycat" recipes for these biscuits, but this is DEFINITELY the one! Made my own homemade Bisquick, then used it to make these biscuits. Absolutely perfect! Crispy on the outside and fluffy on the inside! Now if we could just stop eating them...
Never thought I'd make a biscuit like Red Lobster. It came out exactly the same. Easy to make. Will make them again--FOR SURE
I'm Todd Wilbur, Chronic Food Hacker
For over 30 years I've been deconstructing America's most iconic brand-name foods to make the best original copycat recipes for you to use at home. Welcome to my lab.