←

Maggiano's Famous Rigatoni "D"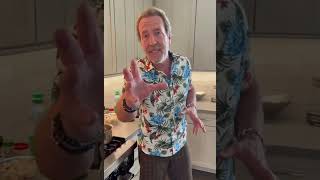 Maggiano's Famous Rigatoni "D"

"D" was chef David Di Gregorio's nickname at the first Maggiano's, which opened in Chicago, Illinois in 1991, and he's the guy who developed the best-selling pasta dish on the menu. 
Maggiano's Famous Rigatoni "D" is a genuinely great dish that anyone can copy if they use the exclusive top secret techniques revealed here. After many trials and several errors, I finally replicated the amazing creamy marsala sauce by reducing two full bottles of inexpensive marsala wine down to just one-half cup of intensely flavored liquid. The alcohol cooks out, the mushrooms contribute their savory umami goodness, and after about an hour-and-a-half you have the perfect flavoring solution for your cream sauce.     
The other mushrooms in the dish are served unsliced, so make sure they're small enough to eat in one bite. Sometimes it's tough to find 40 small mushrooms, so feel free to use your choice of white (button) or brown (cremini) mushrooms for this recipe. They are the same mushroom species with only minor differences (white mushrooms are a cultivated mutation of the brown ones), so either will work. But, if you have a choice, go with creminis since they tend to have a slightly deeper flavor.
Try my Maggiano's Rigatoni "D" recipe today, and complete the meal with my Maggiano's Vera's Lemon Cookies recipe here.
Get This
_main
2 cups chicken broth
1/4 cup extra virgin olive oil
...
Wooooooooow!!! This is a show stopping dish.!!! As I was cooking this dish, my neighbors texted me and said that the aromas coming from my house were "divine" and they wanted to know what I was cooking. Needless to say, I packed them a sampling of the rigatoni so they could enjoy too. My twin toddlers also devoured it! The taste was well worth the prep and cook times!! I will be making this again!
This is a delicious recipe and well worth the effort. It is amazingly taste. It does take a little time to prepare and does take some preparation. However, it is well worth the time and effort.
I'm Todd Wilbur, Chronic Food Hacker
For over 30 years I've been deconstructing America's most iconic brand-name foods to make the best original copycat recipes for you to use at home. Welcome to my lab.
What's Hot