←

Cheesecake Factory Spicy Cashew Chicken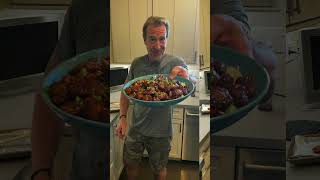 Cheesecake Factory Spicy Cashew Chicken
This popular chain wrangles a wide variety of dishes and cooking styles day after day with consistently high quality. From pasta to burgers to tacos, from salads to pancakes to beautiful cheesecakes for dessert, there is something for everyone at the Cheesecake Factory.
The thorough menu's Asia-inspired plates include Thai, Korean, and Chinese dishes, but one that consistently stands out is this excellent Mandarin-style spicy chicken entrée, served over your choice of white or brown rice.
The secret of the great flavor is in the sauce, which has now been hacked for you in this recipe. Plus, I'll walk you through the process of creating perfect crispy chicken from scratch using juicy chicken tenderloins.
If you'd like to save time, you can bake up some pre-cooked breaded chicken tenders and focus all your efforts on the amazing sauce. Tips on that shortcut can be found below in the Tidbits.    
If you like this recipe for Cheesecake Factory Spicy Cashew chicken, you'll want to check out more of my copycat Cheesecake Factory recipes here.
Get This
_main
2 teaspoons vegetable or peanut oil
3 tablespoons minced garlic
...
There are no reviews for this product yet...
I'm Todd Wilbur, Chronic Food Hacker
For over 30 years I've been deconstructing America's most iconic brand-name foods to make the best original clone recipes for you to use at home. Welcome to my lab.