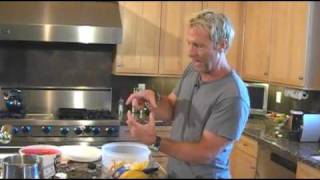 KFC Grilled Chicken

It took chefs several years to develop what would eventually become KFC's most clucked about new product launch in the chain's 57-year history. With between 70 to 180 calories and four to nine grams of fat, depending on the piece, the new un-fried chicken is being called "KFC's second secret recipe," and "a defining moment in our brand's storied history" in a company press release. The secret recipe for the new grilled chicken is now stored on an encrypted computer flash drive next to the Colonel's handwritten original fried chicken recipe in an electronic safe at KFC company headquarters. Oprah Winfrey featured the chicken on her talk show and gave away so many coupons for free grilled chicken meals that some customers waited in lines for over an hour and half, and several stores ran out and had to offer rain checks. Company spokesperson Laurie Schalow told the Associated Press that KFC has never seen such a huge response to any promotion. "It's unprecedented in our more than 50 years," she said. "It beats anything we've ever done."
When I heard about all the commotion over this new secret recipe, I immediately locked myself up in the underground lab with a 12-piece bucket of the new grilled chicken, plus a sample I obtained of the proprietary seasoning blend, and got right to work. After days of nibbling through what amounts to a small flock of hens, I'm happy to bring you this amazing cloned version of this fast food phenomenon so that you can now reproduce it in your own kitchen. 
Find the smallest chicken you can for my KFC grilled chicken copycat recipe, since KFC uses young hens. Or better yet save some dough by finding a small whole chicken and cut it up yourself. The secret preparation process requires that you marinate (brine) your chicken for a couple of hours in a salt and MSG solution. This will make the chicken moist all the way through and give it great flavor. After the chicken has brined, it's brushed with liquid smoke-flavored oil that will not only make the seasoning stick to the chicken, but will also ensure that the chicken doesn't stick to the pan. The liquid smoke in the oil gives the chicken a smoky flavor as if it had been cooked on an open flame barbecue grill.
The grilled chicken at KFC is probably cooked on ribbed metal plates in specially designed convection ovens to get those grill marks. I duplicated that process using an oven-safe grill pan, searing the chicken first on the stove top to add the grill marks, then cooking the chicken through in the oven. If you don't have a grill pan or a grill plate, you can just sear the chicken in any large oven safe sauté pan. If you have a convection function on your oven, you should definitely use it, but the recipe will still work in a standard oven with the temperature set just a little bit higher. After baking the chicken for 20 minutes on each side, you're ready to dive into your own 8-piece bucket of delicious indoor grilled chicken that's as tasty as the fried stuff, but without all the fat.
Check out the video demonstration of this recipe.
You might also like my copycat recipes for KFC's signature sauces and sides. Find all of my KFC copycat recipes here.
Source: "Top Secret Recipes Step-by-Step" by Todd Wilbur
Get This
_main
8 cups water
1/4 cup salt
...
Made this today…. 5 stars must try for everyone reading. Never had the real thing but this is my new chicken recipe on Sundays
I never tried KFC's grilled chicken, but this is a GREAT grilled chicken recipe. Chicken comes out very moist (which is difficult with chicken) and very flavorful!! Will be making again!