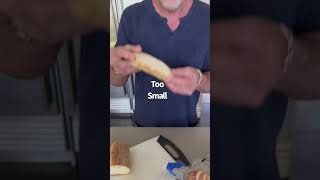 Sizzler Cheese Toast

In Los Angeles in 1957, Del Johnson noticed an article in the Wall Street Journal about a successful $1.09 per steak steakhouse chain with locations in New York, Chicago, and San Francisco. Inspired by the article, Del decided to open his own steakhouse in L.A., but with a twist that would save him money. His idea was to develop a steakhouse where customers would order their food at a food counter and pick it up when it was ready. Doesn't sound that exciting, but the concept was a hit. After the first Sizzler was open for a year, Del decided to run a two-day, one-cent anniversary sale: buy one steak at the regular price and get a second for just a penny. Del said, "We opened at 11:00. People were lined up from 11:00 until 9:00 at night, and we sold 1,050 steaks in one day and about 1,200 the second day."

Sizzler serves a slice of tasty cheese toast with every meal. Use my Sizzler cheese toast recipe for a simple hack that goes well with just about any entrée.
Update 8/24/21: A Sizzler employees revealed that the chain uses whipped butter, mixed with grated Parmesan cheese spread onto the bread before cooking. If you use this technique or mine below, your results should be the same. 
Try more of my Sizzler copycat recipes here.

Source: Top Secret Restaurant Recipes by Todd Wilbur. 
Get This
_main
5 tablespoons salted butter, divided
4 slices thick-sliced white or French bread
4 teaspoons grated Parmesan cheese
1. Melt 4 tablespoons of butter in a small bowl in the microwave.
2. Use a brush to spread the butter evenly over one face of each slice of bread.
3. Sprinkle the Parmesan cheese over the butter.
4. Heat a frying pan or griddle over medium/low heat. When the pan is hot, add 1 tablespoon of butter to the pan and grill the bread, buttered side down for 3 - 4 minutes or until golden brown. Grill only the buttered side.
Serves 4.
Living in San Pedro, CA in the early '80s, I walked to Rudecinda Sepulveda Dodson "Junior" High School every school day passing a Sizzler Steakhouse. For a quarter, I could get two pieces of this toast and an Iced Tea (no free refills then folks). Made this today with French bread cut to 1-inch slices... so many memories came back to me. Perfect recipe. OBTW tried with whipped butter way as well, no difference in taste. I highly recommend using unsalted butter however, as Parmigiano is pretty salty in of itself.
Thanks for the recipe for this toast! I found sliced Texas toast at my local Walmart with the perfect slices needed. I made the toast, and it was exactly as I remember it. Thanks again.