←

Red Lobster Cheddar Bay Biscuits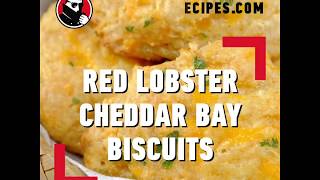 Red Lobster Cheddar Bay Biscuits
Order an entree from America's largest seafood restaurant chain and you'll get a basket of some of the planet's tastiest garlic-cheese biscuits served up on the side. For many years, the Cheddar Bay Biscuits recipe has been the most-searched-for clone recipe on the Internet, according to Red Lobster. As a result, several versions are floating around, including one that was at one time printed right on the box of Bisquick baking mix.

The problem with making biscuits using Bisquick is that if you follow the directions from the box you don't end up with a very fluffy or flakey finished product, since most of the fat in the recipe comes from the shortening that's included in the mix. On its own, room temperature shortening does a poor job creating the light, airy texture you want from good biscuits, and it contributes little in the way of flavor. So, we'll invite some cold butter along on the trip -- with grated Cheddar cheese and a little garlic powder. Now you'll be well on your way to delicious Cheddar Bay. Wherever that is.
Complete the Red Lobster experience and make favorite entrées and side dishes here.
Get This
_main
2 1/2 cups Bisquick baking mix
4 tablespoons cold butter
1 heaping cup grated medium Cheddar cheese
3/4 cup cold whole milk
1/4 teaspoon garlic powder
Brush on Top
2 tablespoons butter, melted
1/2 teaspoon garlic powder
1/4 teaspoon dried parsley flakes
Pinch salt
1. Preheat your oven to 400 degrees F.
2. Combine the Bisquick with cold butter in a medium bowl using a pastry cutter or a dinner fork. You don't want to mix too thoroughly. There should be small chunks of butter in there that are about the size of peas to help make the biscuits flaky. Add the Cheddar cheese, milk, and 1/4 teaspoon garlic. Mix by hand with a large spoon until combined, but don't over mix.
>3. Drop 1/4-cup portions of the dough onto an ungreased cookie sheet using an ice cream scoop. Bake for 15 to 17 minutes or until the tops of the biscuits begin to turn light brown. 
4. When you take the biscuits out of the oven, melt 2 tablespoons butter in a small bowl in your microwave. Stir in 1/2 teaspoon garlic powder and the dried parsley flakes. Use a brush to spread this garlic butter over the tops of all the biscuits. Use up all of the butter.
Makes a dozen biscuits.
Love it! I add extra butter and cheese. You can never go wrong with more of that! Definitely a crowd pleaser! Can never make enough!
I bought this recipe over a year ago and put it away. Then one night I made some Cheddar Beer Soup and dug out this recipe to go with it. OMG, my husband and I couldn't stop eating them. They are delicious. Thank goodness I made half the recipe or we never would have finished the soup!