←

McDonald's McRib Sandwich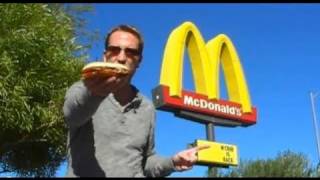 McDonald's McRib Sandwich

If you're like me, that "limited-time" the McRib Sandwich is on sale is much too limited. But that's okay. If you've got a food processor, you'll never have to go without the taste of the saucy sparerib sandwich that's dressed with pickles and onions and served on a soft, warm sandwich roll. 
For my McDonald's McRib copycat recipe, the food processor is essential for grinding up meat that's been cut away from the bones of a large rack of uncooked pork spareribs. Once you shape the meat into patties and freeze it, you'll be able to make homemade McRibs any time you want in your own kitchen in less than 10 minutes. Follow these steps exactly, and you will be shocked at how similar your home version tastes to the real McRib McCoy.
Check out my video demo: How to clone a McRib.
Source: Top Secret Recipes: Step-by-Step by Todd Wilbur.
Get This
_main
16 ounces uncooked pork spareribs meat (cut off the bones from 1 rack)
3 tablespoons water
1 teaspoon granulated sugar
3/4 teaspoon salt
4 6-inch center split white sandwich rolls (Sara Lee makes the perfect size)
1 cup Hunt's Original Barbecue Sauce
8 dill pickle slices
1/2 cup sliced white onion
1. Combine the pork, water, sugar and salt in a food processor and puree on high speed for 30 to 60 seconds or until completely smooth.
2. Divide pureed pork into 4 equal portions that weigh 4 ounces each. Line a baking sheet with parchment paper or nonstick foil. Using your fingers that have been moistened with water form each portion of pork on the lined baking sheet into rectangles that measure 6 1/2 inches by 3 inches. Gently press another sheet of parchment paper or nonstick foil onto the top of the pork patties and then pop the whole pan into the freezer for a couple hours, or until the pork is frozen solid.
3. When you are ready to make your sandwiches preheat a large skillet or griddle over medium heat. Slice the sandwich rolls to separate the top and bottom half, then brown the faces of the top and bottom roll halves (crown and heel).
4. When the rolls are browned, use the same pan to cook the pork. Cook the pork on one side for 3 to 4 minutes or until browned in spots, then flip each pork patty over and cook for another 3 minutes. Remove all the pork patties to a platter to cool just a bit. The barbecue sauce will stick better if the pork cools down for a minute or two.
5. As the pork cools pour 1 cup of barbecue sauce into a large shallow bowl. When the pork has cooled some, use tongs to dip each patty into the barbecue sauce until the pork is completely covered with sauce. Place the pork onto the heel of a sandwich roll, then arrange two pickle slices on the pork. Drop about 2 tablespoons of chopped onion on the pork, and then top off each sandwich with the crown.
6. Just before serving, zap each sandwich for 15 seconds in your microwave on the highest setting. This will warm the bread as if it had been packaged like the original.
Serves 4.
Tidbits: If you want a smokier flavor, add 1/4 teaspoon hickory liquid smoke to the food processor when you puree the meat.
Outstanding! I love this recipe. It's a keeper for sure.
I LOVE the McRib, and sadly, like the rest of the US, I'm McRibless more often than not. This is the PERFECT clone, AND it's Yoga mat FREE! Keep up the hard work, Todd!