←

Chili's Molten Chocolate Cake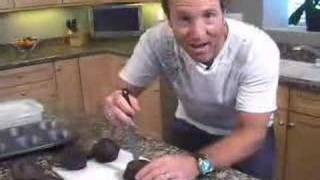 Chili's Molten Chocolate Cake

Menu Description: "Warm chocolate cake w/chocolate fudge filling. Topped w/vanilla ice cream under a crunchy chocolate shell."

Get out your "easy" button for this one. The clone recipe for this top-requested Chili's dessert is easy to make—and can even be made days ahead of time. A chocolate fudge cake mix is all you need for the cake part of the recipe. The cake batter is poured into the large cups of a Texas-size muffin pan. When the cakes are done and cooled, you make a secret hole where the hot chocolate is loaded. Now you can keep the cakes chilled until dessert time. To serve, heat a cake, plop a scoop of vanilla ice cream on top, and top it off with some Magic Shell, (a chocolate topping that hardens on ice cream) that you can make from scratch with my recipe here. When your diners dig into the cake, the delicious hot fudge center oozes out of the warm chocolate cake.

For a live demonstration of this clone recipe check out this video.
Source: Top Secret Restaurant Recipes 2 by Todd Wilbur.
Try my improved version in Top Secret Recipes Step-by-Step.
Get This
_main
1 15.25-ounce box chocolate fudge or dark chocolate cake mix
1 cup water
...
I use to be a server at chili's. This is exactly how they make them. The ice cream chili's use's is Blue Bunny Ice cream. Trust me try blue bunny ice cream is the way to go.
Better than the restaurant. Made in a cupcake pan and had 24 molten chocolate cupcakes. They were absolutely perfect!!! I also decided to change up the filling, 12 cakes had chocolate filling, 12 had caramel (same brand as chocolate.) Note: if you make this recipe with caramel, microwave cakes for a little less than chocolate.