←

Cheesecake Factory Bruléed French Toast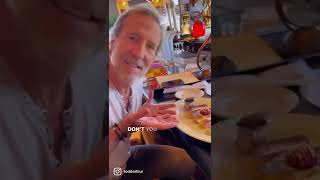 Cheesecake Factory Bruléed French Toast

On weekends, hungry patrons at The Cheesecake Factory are treated to a special menu of brunch selections where this thick-sliced, caramelized French toast is a stand-out. A plate comes with four battered bread slices, each browned on one side, then dusted with powdered sugar, and served with warm maple-butter syrup.
I obtained virtually no helpful prep tips from the servers in the restaurant, so I was left to deduce my copycat recipe from a simple inspection of the real thing once I got my take-out order home. I eventually settled on a batter that combines the same ingredients you'd find in crème brûlée: eggs, cream (in the half-and-half), sugar, and vanilla.
After lightly browning one battered side of each thick bread slice, the other side is battered and then sprinkled with a light coating of sugar. When the sugared bread is turned over onto the hot pan, the sugar cooks until browned, re-creating the taste experience of a traditional torched crème brûlée dessert.  
Now, using my exclusive Cheesecake Factory Bruléed French Toast recipe, you can have great brunch food any day of the week without having to wait for a table, and without shelling out nearly 20 bucks for a plate of battered bread.
Find your favorite cheesecake, appetizer, and entrée recipes from Cheesecake Factory here. 
Get This
_main
1/3 cup maple syrup
1/4 cup unsalted butter
...
I never had brunch at the Cheesecake Factory so I cannot compare, but I can tell you that this recipe is awesome. What really makes it is the maple-butter syrup. The presentation is so elegant and the recipe so tasty that I served it to guess as a dessert, which I would never do with "regular French toast", and they really enjoyed it! Thank you Todd!