←

Baskin-Robbins Ice Cream Cake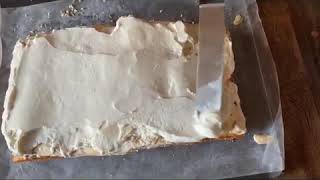 Baskin-Robbins Ice Cream Cake

Traditional white birthday cakes are pretty boring by themselves. Scoop a little ice cream onto the plate and I'll perk up a bit. But, hey baby, bring a Baskin-Robbins ice cream cake to the party and I'll be the first one in line with my plastic fork. This 5000-unit ice cream chain stacks several varieties of pre-made ice cream cakes in its freezer, but I've discovered the most popular version, over and over again, is the one made from white cake with pralines and cream ice cream on top. So that's what I've cloned here in my Baskin-Robbins Ice Cream Cake recipe below. 
But don't think you're locked into this formula—you can use any flavor of cake and ice cream you fancy for your homemade masterpiece. Just be sure the ice cream you choose comes in a box. It should be a rectangular shape so that the ice cream layer stacks just right on the cake. You'll want a real sharp serrated knife to cut the ice cream in half while it's still in the box. And check this out: that white stuff that coats the cake is actually softened vanilla ice cream that's spread in a thin layer on the cake, and then re-frozen. After it sets up, you can decorate the cake any way you like with pre-made frosting in whatever color suits the festive occasion. When you're done, you'll have a Baskin Robbins ice cream cake that looks and tastes exactly like those sold in the stores for a lot less dough.
Find more of your favorite famous dessert recipes here.

Source: Even More Top Secret Recipes by Todd Wilbur.
Get This
_main
1 box white cake mix
11/4 cups water
...
It's Awesome!!! I have never bought one from them again.
We love this recipe because our Baskin-Robbins went out of business in our town. Now I have to make our own ice cream cake. My son requests this for his birthday (he will be 18!).