←

Taco Bell Cinnamon Twists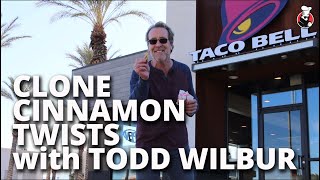 Taco Bell Cinnamon Twists

Taco Bell's popular Cinnamon Twists are inspired by a traditional Mexican treat made by frying duros de harina until puffy, then sprinkling the crunchy spirals with cinnamon/sugar. Duros, or duritos, is a special pasta made with wheat flour and cornmeal or cornstarch that swells up in seconds in hot oil, transforming it into a light and crispy snack.
You can find duros in many shapes at Latin markets or online, but for this hack you want spirals that look like rotini. Most duros you find will likely be saltier and denser than what Taco Bell uses since the chain created a custom recipe for American palates.
It takes just 10 to 15 seconds for the pasta to puff up in the oil—it will be sudden and dramatic and the duros crisps will float to the top. When they do, gently poke at them, and stir them around in the hot oil until they are evenly cooked. It only takes about a minute to fry each batch.
Watch me make Taco Bell Cinnamon Twists in this new video!
Get This
_main
1/4 cup granulated sugar
1 teaspoon ground cinnamon
4 ounces duros or duritos pasta
Vegetable oil for frying
1. Preheat at least 2 inches of oil in a deep fryer, saucepan, or Dutch oven to 350 degrees F.
2. Combine the sugar and cinnamon in a small bowl.
3. Fry the pasta in the hot oil in batches for 1 minute. Use a large spoon or tongs to move the pasta around as it fries so that it cooks evenly. Remove the fried pasta from the oil and let it cool on a paper towel-covered plate or cooling rack.
4. When all the pasta is cooked, transfer it to a large bowl and sprinkle some of the cinnamon sugar over it. Toss the pasta, then sprinkle it again, and continue sprinkling and tossing until all the cinnamon sugar is used.
Makes 8 servings.
Just saw the recipe and was craving something unique to try and make. And, wow, these are really, really, good. They are so close to what Taco Bell has -- that it's hard for me to tell the difference. And, now, I just hope that Todd keeps cloning all of Taco Bell's recipes, because they are a little more expensive now and give you less than they used to.
I'm Todd Wilbur, Chronic Food Hacker
For over 30 years I've been deconstructing America's most iconic brand-name foods to make the best original copycat recipes for you to use at home. Welcome to my lab.
What's Hot