←

Starbucks Cranberry Bliss Bar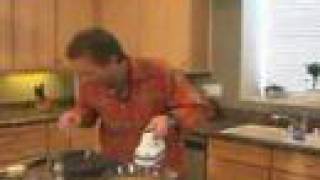 Starbucks Cranberry Bliss Bar

Each holiday season, Starbucks brings out one of its most beloved desserts: a soft triangle of white chocolate and cranberry cake covered with delicious creamy lemon frosting and dried cranberries. But when the holidays are over, the Bliss Bars go back into hiding until next season. That's when we bust out our Starbucks Cranberry Bliss Bar copycat recipe.
The cake is flavored with bits of crystallized ginger that you can find in most markets near the herbs and spices. Be sure to finely mince the chunks of ginger before adding them, since ginger has a strong flavor, and you don't want anyone biting into a whole chunk. For the white chocolate, one 4-ounce bar of Ghirardelli white chocolate will give you the perfect amount of chunks after you chop it up. If you can't find that brand, any brand of white chocolate will do, or you can use 4 ounces of white chocolate chips. My cranberry bliss bar recipe below will make a total of 16 cake bars, at a fraction of the cost of the original.

For a demonstration of this classic clone recipe, check out this video.
Check out my other copycat recipes for more Starbucks favorites here.

Source: Top Secret Recipes Unlocked by Todd Wilbur.
Get This
Cake
3/4 cup (1 1/2 sticks) butter, softened
1 1/4 cups packed light brown sugar
3 large eggs
2 tablespoons minced crystallized ginger
1 1/2 teaspoons vanilla extract
1/2 teaspoon salt
1 1/2 cups all-purpose flour
1/2 teaspoon baking powder
3/4 cup chopped sweetened dried cranberries
4 ounces white chocolate, cut into chunks
Frosting
4-ounces cream cheese, softened
3 cups powdered sugar
4 teaspoons lemon juice
1 teaspoon vanilla extract
1/4 cup chopped sweetened dried cranberries
Drizzled Icing
1/2 cup powdered sugar
1 tablespoon milk
2 teaspoons vegetable shortening
1. Preheat the oven to 350 degrees F.
2. Make the cake by beating the butter and brown sugar together with an electric mixer until smooth. Add the eggs, ginger, vanilla, and salt and beat well. Gradually mix in the flour and baking powder until smooth. Mix the chopped dried cranberries and white chocolate chunks into the batter by hand. Pour the batter into a buttered 9x13-inch baking pan. Use a spatula to spread the batter evenly across the pan. Bake for 25 to 30 minutes, or until the cake is lightly browned on top. Allow the cake to cool.
3. Make the frosting by combining the softened cream cheese, powdered sugar, lemon juice, and vanilla in a medium bowl with an electric mixer until smooth. When the cake has cooled, use a spatula to spread the frosting over the top of the cake.
4. Sprinkle 1/4 cup of chopped dried cranberries over the frosting on the cake.
5. Make the drizzled icing by whisking together the powdered sugar, milk, and shortening. Drizzle this icing over the cranberries in a sweeping motion with a squirt bottle or fill a small plastic storage bag with the icing and cut off the tip off one corner.
6. Cover the cake and let it chill out in the fridge for a couple hours, then slice the cake lengthwise (the long way) through the middle. Slice the cake across the width three times, making a total of eight rectangular slices. Slice each of those rectangles diagonally creating 16 triangular slices.
Makes 16 bars.
I made these for the first time tonight and found them to be better than the original item I had a month ago... I'll be making these more often than I should...
This recipe is excellent! After making it and eating almost the whole pan to myself I can say they are delicious in every regard. I no longer want the bars from Starbucks-the ones I make from this recipe are fresher, thicker, and tastier! 5 stars!!
I'm Todd Wilbur, Chronic Food Hacker
For over 30 years I've been deconstructing America's most iconic brand-name foods to make the best original copycat recipes for you to use at home. Welcome to my lab.