←

Planet Hollywood Chicken Crunch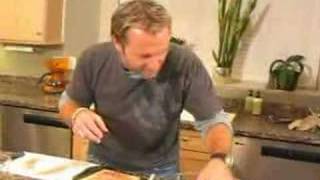 Planet Hollywood Chicken Crunch

Menu Description: "A basket of tender chicken breaded with Cap'n Crunch and seasonings, served with Creole mustard sauce."

The Orlando, Florida Planet Hollywood, which had its big opening in 1994, pulls in yearly sales receipts totaling around $50 million, making it one of the highest volume restaurants in America. If you've never tried the Chicken Crunch at Planet Hollywood, you're missing a treat. Sliced chicken breast fingers are coated with a crunchy, slightly sweet breading combination of Cap'n Crunch cereal and cornflake crumbs. The chicken is then deep-fried to a golden brown and served with a tasty dipping sauce made from mayonnaise, horseradish, and Dijon mustard. Prepare to get hooked on this Planet Hollywood Chicken Crunch recipe.

Source: Top Secret Restaurant Recipes by Todd Wilbur.
Check out a video demonstration of this recipe here.
Get This
Creole Mustard Sauce
2 tablespoons Grey Poupon Dijon mustard
3 tablespoons mayonnaise
1 teaspoon yellow mustard
1 teaspoon cream-style horseradish
1 teaspoon honey
_main
Vegetable oil for frying (amount required by your fryer)
2 skinless chicken breast fillets
2 cups Cap'n Crunch cereal
1/2 cup cornflake crumbs
1/2 teaspoon onion powder
1/2 teaspoon garlic powder
1/2 teaspoon salt
1/4 teaspoon ground white pepper
1 large egg, beaten
1 cup milk
1. Preheat oil in a deep pan or deep fryer to 375 degrees F. You want to use enough oil to completely cover the chicken, at least 2 inches deep.

2. Combine all of the ingredients for the Creole mustard sauce in a small bowl and chill the sauce while the chicken is prepared.

3. Cut each chicken fillet, lengthwise, into 5 long slices (chicken fingers)

4. Smash the Cap'n Crunch into crumbs using a food processor, or put the cereal into a plastic bag and start pounding.

5. Combine the cereals, onion powder, garlic powder, salt, and pepper in a medium bowl.

6. Combine the egg with the milk in a separate bowl.

7. Dredge each piece of the chicken in the milk mixture, and then completely coat it with the dry mixture. Do this for all the chicken before frying.

8. When the oil is hot, fry the chicken for 4 to 6 minutes or until golden to dark brown and crispy. Remove to paper towels or a rack to drain. Serve hot with Creole mustard sauce on the side for dipping.

Serves 2 to 4 as an appetizer.
This is my 3rd time making this it is so good
Made for super bowl party! Wow! Fantastic!
I'm Todd Wilbur, Chronic Food Hacker
For over 30 years I've been deconstructing America's most iconic brand-name foods to make the best original copycat recipes for you to use at home. Welcome to my lab.
What's Hot