←

Din Tai Fung Kurobuta Pork Xiao Long Bao (Pork Soup Dumplings)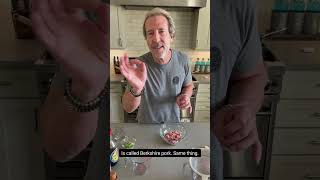 Din Tai Fung Kurobuta Pork Xiao Long Bao (Pork Soup Dumplings)

The demand for cooking oil began to slump in Taiwan in the 1970s, and Yang Bing Yi's cooking oil shop, called Din Tai Fung, was struggling. To help support his family of five children, Yang converted one side of his store into a dumpling shop and sold steamed soup dumplings for take-out. When the dumpling business became far more lucrative than the cooking oil business, Yang stopped selling oil and converted his dumpling business into a full-service restaurant, and eventually a chain of dumpling restaurants.
The dumpling chain got a massive boost in 1993 when the New York Times named Din Tai Fung one of the top 10 restaurants in the world.  And now today, the chain has over 170 locations in 13 countries and serves a wide variety of Taiwanese food, but it's the famous pork soup dumplings that bring the customers back.  
The Kurobuta Pork Xiao Long Bao, or pork soup dumplings, at Din Tai Fung are exceptional in a couple of ways. For one thing, the pork comes from Kurobuta black pigs, which are known as Berkshire pigs here in the U.S. The meat from these pigs is very tender and flavorful, and when you include all the fat from the shoulder in the grind, the filling here will practically melt in your mouth. For the best clone, you'll need to track down a shoulder of Berkshire pork and get it ground up without trimming off any of the fat cap.
If you are familiar with the dumplings at Din Tai Fung, you know that they are beautiful. The dumplings are folded by masters who have trained for months, often making over a thousand dumplings until they are able to craft a perfect little pouch every time. The real Din Tai Fung dumplings have 18 pleats, pinched together with the thumb and forefinger of one hand as the other spins the pouch around. I've included instructions with step photos here in my Din Tai Fung pork soup dumplings recipe to help you, but perfect dumplings aren't easy for beginners, so don't worry if your xiao long bao don't look as good as those made by the well-trained pros.
I tested different flours for the wrappers and found that extra fine "00" flour, often used for pizza and pasta, worked best here. The fine grind of the flour made folding the dumplings an easier task, and the wrappers were better at absorbing moisture from the steam. If you have trouble finding "00" flour, you can substitute with bleached all-purpose flour. And when you measure the flour, use grams for the best results.
I also found it easier to fold 22 dumplings with a Mai Tai. Here are some famous cocktail recipes to help you along.
Get This
_main
1 1/2 cups chicken stock
2 teaspoons gelatin powder
...
Husband told me it was one of the best things I've ever made. It's a long process but not very complicated. Will have them again
I'm Todd Wilbur, Chronic Food Hacker
For over 30 years I've been deconstructing America's most iconic brand-name foods to make the best original copycat recipes for you to use at home. Welcome to my lab.
What's Hot