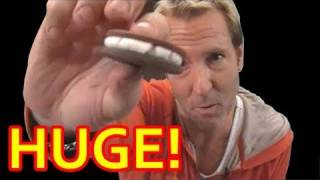 Nabisco Oreo Cookies

At one time Nabisco actually conducted a study to determined that 50 percent of Oreo consumers twist the cookie apart before eating it. I guess this is important information since it concerns the world's top-selling cookie. Historians at Nabisco aren't sure who came up with the idea for this sandwich cookie back in 1912, but they do know that it was introduced along with two other cookie creations that have long since died. The name may have come from the Greek word for mountain, oreo, which would once have made sense because the first test version was hill-shaped. When the Oreo was first sold to the public, it was much larger than today's cookie, but it kept shrinking over the years until Nabisco realized it had become too small and had to enlarge it again to today's current 1 3/4-inch diameter.

In 1975, Nabisco figured we couldn't have too much of a good thing, so the company gave us Double Stuf Oreos, with twice the filling. But why stop there? Now, with my Oreo cookies recipe below, you're free to pile as much "stuf" on your cookies as you like.
Watch this video demo: How to Clone an Oreo Cookie (plus how to make a really BIG Oreo!).
Source: More Top Secret Recipes by Todd Wilbur. 
Get This
Cookie
1 18.25-ounce pkg. Betty Crocker chocolate fudge cake mix
3 tablespoons shortening, melted
1/2 cup cake flour, measured then sifted
1 large egg
3 tablespoons water
2 tablespoons brown paste food coloring (optional)*
Filling
3 3/4 cups powdered sugar
1/2 tablespoon granulated sugar
1/2 teaspoon vanilla extract
1/2 cup vegetable shortening
2 tablespoons hot water
1. Combine the cookie ingredients in a large bowl. Add the water a little bit at a time until the dough forms. Cover and chill for 2 hours.
2. Preheat oven to 350 degrees F.
3. On a lightly floured surface roll out a portion of the dough to just under one 16th of an inch thick. To cut, use a lid from a spice container with a 1 1/2-inch diameter (Schilling brand is good). Arrange the cut dough rounds on a cookie sheet that is sprayed with a light coating of non-stick spray. Bake for 10 minutes. Remove the wafers from the oven and cool completely.
4. As the cookies bake, make the filling by combining the filling ingredients with an electric mixer. 
5. When the cookies have cooled, roll a small portion (heaping 1/4 teaspoon) of the filling into a ball (just over 1/4-inch in diameter), and press it between two of the cookies. Repeat with the remaining cookies.
Makes 54-58 sandwich cookies.
*This is an optional step to help re-create the color of the original cookie. If you do not use the paste food coloring be sure to change the amount of water added to the wafer cookies from 3 tablespoons to 1/4 cup. The food coloring gives the cookies the dark brown, almost black color. The coloring can be found with cake decorating supplies at art supply and craft stores.
Tidbits: If the dough seems too tacky, you can work in as much as 1/4 cup of flour as you pat out and roll the dough. Use just enough flour to make the dough workable, but not tough.
If you can't find the chocolate fudge cake mix, or just prefer to make your cookies from scratch, you can use the clone recipe for Duncan Hines Dark Chocolate Fudge Cake Mix found here on the site.
Excellent! My grandchildren like them better than the original.
These are great! They do take a while to make but if you're committed to it you won't be disappointed!
I'm Todd Wilbur, Chronic Food Hacker
For over 30 years I've been deconstructing America's most iconic brand-name foods to make the best original copycat recipes for you to use at home. Welcome to my lab.