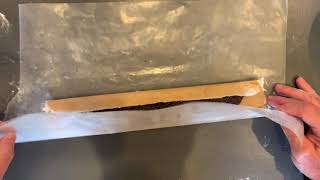 Nabisco Fig Newtons

In 1891, a baker named Charles Rosen invented a machine that inserted fig paste into seamless pastry dough and was soon mass-producing one of the first commercially baked products in America. Rosen named his creation after the nearby town of Newton, Massachusetts, and eventually sold the recipe to the Kennedy Biscuit Company, which later became Nabisco. Today Nabisco sells over 1 billion Fig Newtons each year.
It has long been my wish to create a satisfying clone of such an iconic snack, but I was never quite sure how to go about it. The fig filling needs to be sweet with a sour aftertaste, and thick like jam. The thin pastry would need to be tender, not tough, and should smoothly wrap around the figs without cracking. After a week or so of pureeing dry figs and testing pastry doughs, I finally created a Fig Newton recipe that tasted great and looked just like the original.
Since you likely don't have a fig bar extruder in your kitchen like Charles Rosen did, we'll use a dough folding technique to make nicely shaped bars with smooth sides, no cracks, and no visible seam. The trick is to roll out the dough on wax paper, then wrap the dough around the fig filling by lifting the wax paper up and over the filling. You can cleanly manipulate very thin dough this way, and when you flip the bar over, the seam will be hidden.
Re-hydrating the dried figs will help make them easier to puree, and the dry pectin in the mix will thicken the figs to a jammy consistency and give the filling additional tartness (citric acid is in pectin to help activate it). My Fig Newton recipe will make 48 cookies, or more than twice what you get in two 10-ounce packages of the real thing.
Get this recipe in "Top Secret Recipes Unleashed" exclusively on Amazon.com.
Get This
Fig Filling
12 ounces dried black mission figs, stems removed
1 cup water
...
I bought the book and these came out great!
I'm Todd Wilbur, Chronic Food Hacker
For over 30 years I've been deconstructing America's most iconic brand-name foods to make the best original copycat recipes for you to use at home. Welcome to my lab.